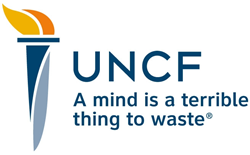 Los Angeles, CA (PRWEB) February 24, 2014
UNCF (the United Negro College Fund), the nation's largest and most effective minority education organization, announced today a $50,000 grant from Kia Motors America (KMA) to support students at selected UNCF Member Institutions majoring in Science, Technology, Engineering, Math (STEM) and environmental science fields of study. The one-year grant will provide $5,000 Kia Motors America STEM/Sustainability scholarships to nine eligible students, and highlights KMA's and UNCF's belief in the importance of increasing the number of qualified minority STEM and environmental science graduates ready to become the next generation of leaders in their field.
"We are grateful to Kia Motors America for its investment in better futures for our young people and commitment to ensuring that more of our students enter these increasingly important fields of study," said Michael L. Lomax, Ph.D., president and CEO, UNCF. "Kia Motors America's support means that we can and will do more to ensure our young people are able to benefit from the many opportunities provided by a strong STEM or environmental science education."
"Kia's core values include strong commitments to diversity, education and sustainability, and partnering with UNCF, an organization grounded in diversity education and renowned for its dedication to this cause, honors those values," said John Yoon, executive vice president, HR, Administration, Diversity Relations & General Counsel for KMA. "Helping students attain their goal of earning a college degree in STEM or environmental science disciplines is part of our drive to be responsible corporate citizens and give back to the communities that we call home."
"We are excited about adding the new Kia Motors America scholarship to our portfolio of over 400 scholarship programs that UNCF manages and administers. Kia's focus on STEM and environmental majors is very key and timely in today's marketplace. The supply of STEM and environmental science professionals must grow to meet the nation's increasing technological needs. And as the demographic composition of America changes, our cultivation of STEM and environmental science talent must evolve to reflect these changes; that's why the new Kia Motors America scholarship will help make a difference," said Curtis R. Silvers, Jr., UNCF Area Director, Southern California.
About UNCF
UNCF (United Negro College Fund) is the nation's largest and most effective minority education organization. To serve youth, the community and the nation, UNCF supports students' education and development through scholarships and other programs, strengthens its 37 member colleges and universities, and advocates for the importance of minority education and college readiness. UNCF institutions and other historically black colleges and universities are highly effective, awarding 20 percent of African-American baccalaureate degrees. UNCF administers more than 400 programs, including scholarship, internship and fellowship, mentoring, summer enrichment, and curriculum and faculty development programs. Today, UNCF supports more than 60,000 students at over 900 colleges and universities.
About Kia Motors America
Kia Motors America (KMA) is the marketing and distribution arm of Kia Motors Corporation based in Seoul, South Korea. KMA proudly serves as the "Official Automotive Partner" of the NBA and LPGA and surpassed the 500,000 annual sales mark for the second consecutive year in 2013 following the launch of seven all-new or significantly redesigned vehicles. KMA offers a complete line of vehicles, including the flagship K900 rear-drive sedan, Cadenza premium sedan, Sorento CUV, Soul urban passenger vehicle, Sportage compact CUV, Optima midsize sedan, Optima Hybrid, the Forte compact sedan, Forte5 and Forte Koup, Rio and Rio 5-door sub-compacts and the Sedona minivan, through a network of more than 765 dealers across the United States. Kia's U.S. manufacturing plant in West Point, Georgia, builds the Optima and Sorento and is responsible for the creation of more than 14,000 plant and supplier jobs.
Information about Kia Motors America and its full vehicle line-up is available at its website – http://www.kia.com. For media information, including photography, visit http://www.kiamedia.com. To receive custom email notifications for press releases the moment they are published, subscribe at http://www.kiamedia.com/us/en/newsalert.