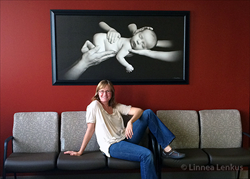 Parenthood is scary, even without complications, I really like the idea that my artwork will help to calm and soothe the people that are there.
(PRWEB) February 27, 2014
Los Angeles photographer, Linnea Lenkus, is no stranger to having her artwork displayed. Her photography can be seen everywhere from art galleries and celebrities' homes to hospital wings and health clinics. When The USC Division of Maternal Fetal Medicine asked for her photography to hang in their newest facility Lenkus once again jumped at the opportunity.
This will be the sixth perinatology office that USC will be opening and Lenkus' photography is featured in several of them already. The USC Perinatal Group works in conjunction with referring OB/GYNs and provides a wide spectrum of specialized services to maximize maternal fetal well-being. Lenkus donated a variety of large wall portraits of her pregnancy, newborn and family photography. "Parenthood is scary, even without complications, I really like the idea that my artwork will help to calm and soothe the people that are there."
There is a lot of careful thought and work that goes into creating artwork for a large space like the Wilshire clinic. Lenkus explained that selecting which of her fine art photography pieces to hang can at first be daunting with so many blank walls to fill but once everything starts coming together it is, "really exciting!" The veteran photographer even goes as far as to hang her artwork herself. "When a respectable facility such as the Wilshire clinic asks me the great honor of displaying my work then I absolutely want to make sure that it looks perfect."
Lenkus shared that the new facility is "gorgeous and the contractor did a wonderful job. The waiting room has a large bright red wall which is very inviting. My staff and I had a lot of fun selecting the artwork and we adorned that gorgeous red wall with a large scale newborn portrait that really symbolizes life, love and family." The USC Perinatal Group officially opens in March 2014 adjacent to the Good Samaritan Hospital on Wilshire Blvd. To schedule an appointment with a high risk maternal fetal medicine specialist, call 213-763-1500.
About Linnea Lenkus
Los Angeles photographer, Linnea Lenkus, specializes in Maternity, Children, Family and Celebrity photography as well as Fine Art Boudoir photography. Linnea is a highly experienced, internationally published, professional photographer with worldwide commercial success. In a photography session with Linnea, clients receive the benefit of her artistic eye and her technical mastery honed over decades of photography experience. Linnea Lenkus is the owner of two fine art portrait studios located in Pasadena and Long Beach California and the owner and curator of Los Angeles art gallery, Linus Galleries. See a photography video of Lenkus in action.