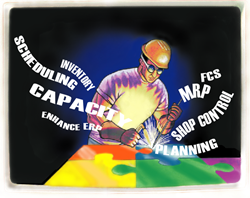 According to Scott McNeil, Master Production Scheduler for Technical Glass Products, "With User Solutions and Resource Manager-DB, all of our unique production scheduling requests have been accommodated quickly, easily, and affordably."
South Lyon, MI (PRWEB) February 25, 2014
For the first time, within a single product, customers can test and blend their choice of leading edge techniques with current operations, at their own pace, to achieve best practices. These techniques include: Lean Manufacturing, Just-In-Time (JIT), Kanban, Theory of Constraints (TOC), Finite Capacity Planning and Scheduling (FCS), Advanced Planning and Scheduling (APS), MRPII, MRP, Job Costing, Drum-Buffer-Rope, Level Loading and Alternate Workcenter with Skill Level Scheduling.
Adapting to Customer's Methods
According to Scott McNeil, Master Production Scheduler for Technical Glass Products out of Snoqualmie, WA, "While we have been successfully using Resource Manager-DB for production scheduling for some time, we find our business model is constantly being tweaked to stay competitive. Normally, this can stress existing systems and you have to force new initiatives manually since you can't easily change existing systems. This is not the case with Resource Manager-DB and User Solutions. User Solutions built Resource Manager-DB to quickly and affordably adapt to accommodate new directives." Scott continues, "For example, when we needed to perform a variety of 'what-if' scenarios in order to best plan for future demand, User Solutions could quickly add an advanced archive and restore feature in order that we could test different plans, such as rebalancing work centers, working on Saturdays, or working longer shifts, to determine at a glance which were viable options to implement. Another request for a new report to automatically alarm us when work centers hadn't started a job as planned was added within days, helping us to focus on the most critical challenges. It is so refreshing they don't have a one-size-fits-all-approach and really listen to what we want to do and are willing and able to deliver quickly and easily."
Resource Manager-DB (RMDB) v2014 new features include: multifaceted data archive and restore, advanced ERP integration options, early warning detection reports, and advanced capacity analysis. These new features enable manufacturers of all sizes to successfully and quickly reap "best practices" results, improving their competitive edge.
Resource Manager-DB's expanded multifaceted data archive and restore feature allows for backup security and not only instant comparison of 'what-if' scheduling scenarios, but also one-click selection and deployment of most optimal scenario.
Newly enhanced ERP or custom systems integration options include customer defined data integration queries and automatic data refresh by time and/or interval.
Additional reporting now features early warning detection alarming for potentially late jobs with customer defined gaps, plus advanced capacity analysis of: backlogs, available capacity by day, week, or month, and loading efficiencies.
Affordable and Compatible
A single user version is $5,000-$10,000. A five user version is twice the single user price. Resource Manager-DB runs with Windows and uses Excel for reports, featuring a unique design that quickly and easily adapts to existing operations. Resource Manager-DB is the first tool that can be utilized by small companies with no formal systems in place, as well as by larger companies to augment existing ERP systems
For more information, or for a free trial, contact: http://www.UserSolutions.com or call toll free (800) 321-8737.