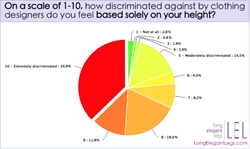 Hillsborough, NJ (PRWEB) February 26, 2014
In addition, a further 86% of the 657 survey respondents found that shopping in-store was so problematic that they preferred to make all of their tall-fit clothing purchases online.
Tricia Kordalski, president of Long Elegant Legs, said of the results: "Having being in the tall clothing sector for over twenty years, I know from both speaking to customers and through first-hand experience how frustrating it can be to find reasonably priced clothing that fits well. But until these staggering results, I wasn't fully aware as to just how little choice there is out there, even for women who are just a few inches above average."
A clear message indicated by the survey is that taller-than-average women (the mean height of respondents was 5'11") feel let down by both fashion designers and retail chains.
48% felt that the average retailer only makes a minimal attempt at accommodating their taller customers, and a further 51% feel that 'no effort at all' is being made.
And it seems that physical stores are missing out by not catering to this demographic, with more respondents naming the quality of the fit being a greater concern than the price tag, and 48% stating that they wouldn't mind spending extra for clothes designed specifically for their frame.
One commenter in New York writes: "I cannot begin to describe my disappointment with the fashion industry. It seems oxymoronic to me that it uses models that are above average height, yet retailers never offer clothes for everyday tall women… especially in light of the fact that, statistically, tall people earn more money (a salary increase of about $789 per year per every inch of height above average)."
The survey coincides with a radical overhaul to the Long Elegant Legs online storefront, which Kordalski hopes will further improve the shopper's experience. "As well as technical improvements such as being more mobile-friendly and displaying sizing and color variations at a glance, it's all about making sure we up our game in catering towards the taller lady. The survey results have certainly helped us appreciate our customer's needs more intimately, and we hope to continue meeting them as we introduce brand new and exclusive product lines to the store."
About Long Elegant Legs
Long Elegant Legs is a tall women's clothing specialist which has been in operation for over 20 years. Based in New Jersey, the company now trades online, has a print catalogue and ships globally.