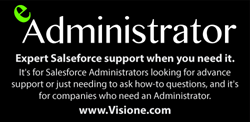 Fairfield, NJ (PRWEB) February 24, 2014
Vision-e today announced updates to its eAdministrator services for salesforce.com apps on the AppExchange, empowering businesses to connect with customers, partners and employees in entirely new ways. eAdministrator provides clients with customized levels of assistance from its team of dedicated, U.S.-based Certified Salesforce Administrators, supported by the Vision-e staff of Certified Salesforce Developers and Sales Cloud Consultants.
eAdministrator Helps Companies Drive an 80% Higher Return on Their Salesforce Investments by Accelerating Adoption and Increasing Productivity
For companies with Salesforce Administrators on staff, eAdministrator's Level One support package provides advice, support, and Salesforce best practices to their current administrators. From answering how-to questions and technical issues, to assisting with the provisioning of developer support, eAdministrator provides Level One clients with the type and amount of support they want, when they want it.
Companies in need of outsourced Salesforce administrator services can access eAdministrator's Level Two support package, which provides clients with a certified Salesforce Administrator to deliver hands-on assistance with all aspects of maintaining the client's org. Level Two services include Salesforce setup, report and dashboard creation, workflow design assistance, guidance on user adoption and user training, and more.
Comments on the News
According to a recent post on blogs.salesforce.com, "CRM systems are too often conceived and implemented with little or no consideration given to how sales reps will use them, much less how they could be configured to deliver the kind of value that would encourage reps to use them." To ensure the successful creation and deployment of their Salesforce orgs, many successful companies insist on the use of experienced, certified Salesforce administrators and developers, as they find that these professionals bring a depth of knowledge and experience that is fundamental to their projects' success.
Product Key Features
With eAdministrator, companies receive support in the administration of their Salesforce instances and help increasing the return on their Salesforce investments. Some of the more popular services include:

Installation, set up, and training on AppExchange apps
Evaluation of AppExchange apps for Salesforce customers
Administrative support for Vision-e AppExchange apps: eMaps, eLeads, eTerritory, and eMeetings
The creation of Reports, Dashboards, Roles, Profiles, Workflows, Templates and much more
With eAdministrator, companies can focus on their core businesses while, at the same time, receiving precisely the amount and type of assistance they need.
Additional Resources
About the AppExchange
The Salesforce AppExchange is the world's leading business apps marketplace. With more than 1,800 partner apps and 1.7 million customer installs it is the most comprehensive source of social and mobile cloud apps for business. The Salesforce Platform is the world's most trusted and comprehensive cloud platform for building social and mobile cloud apps, powering Salesforce CRM, and more than 3 million custom apps built by customers and partners. Apps built on the Salesforce Platform can be easily distributed and marketed through salesforce.com's AppExchange.
Salesforce, AppExchange and others are trademarks of salesforce.com, inc.
About Vision-e
Vision-e, in alliance with Salesforce, is a leader in CRM implementations and productivity applications. Vision-e meets the emerging needs of customers by providing rapid CRM implementation, mobile and cloud computing technologies and external system integrations.
Vision-e has the experience and expertise to deliver fast and responsive Salesforce solutions so customers get the performance they expect.
From bakers to bankers, garages to GM, Vision-e creates affordable, effective, customized Salesforce solutions for any size business, with any size budget. Vision-e puts its customers first so they can put their customers first.
"Vision-e provides elegant, highly customizable solutions that help companies of all sizes get the most out of the Salesforce platform. Vision-e: it's Salesforce…extraordinary." ~ Jule Limoli, CEO, Vision-e
For more information on Vision-e, go to http://www.Visione.com or call 888-611-2679. Vision-e is headquartered in Fairfield, NJ.