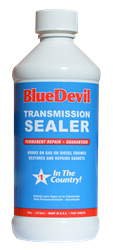 Charleston, SC (PRWEB) February 24, 2014
Nobody likes to find oil spots on their driveway. Not only are they difficult to clean up, they identify important issues under the hood that simply must be addressed immediately. Since 1997, BlueDevil Products has become the best company for stop leak solutions. Standing by their Guarantee, BlueDevil Products continues to stop automotive leaks and has been doing so for 15 years.
With this fifth installment of their popular "Product Spotlight" series, BlueDevil Products introduces its BlueDevil Transmission Sealer. This product permanently seals fluid leaks in your transmission, guaranteed. It restores gaskets and seals transmission leaks fast. "Identifying a leak point is difficult. Fortunately, transmission fluid is thinner and has a deeper red hue to it," says Zach Friedley, head of technical support at BlueDevil Products. "It's a little easier to pin point"
Since 1997, BlueDevil Products has become a serious competitor in the automotive aftermarket with its complete line of chemical solutions. From cracked heads and radiators to oil pans and transmissions, BlueDevil Products manufactures quality sealants for various repair options in automotive systems.