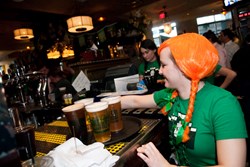 Seattle, Washington (PRWEB) February 21, 2014
Starting March 1, the social order in Seattle shifts towards a singular purpose: celebrating all things Irish. This means wearing green, eating traditional Irish food, connecting with community through charity, and, of course, drinking Guinness and fantastic Irish whiskey. Every aspect of the St. Patrick's Day festivities, which last all month-long, are focused on providing an over-the top - yet authentic - Irish experience.
After 12 years of throwing the biggest Paddy's Day event in Seattle, Fado Irish Pub continues its tradition of delivering the definitive 2014 Paddy's Day celebration. European sports are featured, including 6 Nations Rugby, English Premier League, as well as special whiskey dinner, live music, Pub Quiz, fundraisers, and more! "Party like a Paddy" never sounded more right!
Fadó, the best St Patrick's Day party in the Seattle, is a St Patrick's Day institution and the staff and management at the pub invite you to "commit yourself."
Here's what to expect during the biggest St Patrick's Day Bash in Seattle:
Baldricks Charity event, Thursday, March 6 at 5 p.m. - Annual head-shaving event where the community raises money and awareness to help fight children's cancer. Over 49 shavees have already registered to help beat the $30,000 goal! Fun Fact: "craic" is Irish for good times and we like to say that this event is "great craic for a great cause". Go here to learn more or to donate.
Sounders FC Opening Day, Saturday, March 8 at noon Join the official Sounders Supporters Club, Gorillas FC for pre and post game festivities! Kennedy Brothers at 9 p.m. No cover
International Firefighter Stair Climb Charity Event, Sunday March 9 at 4 p.m. - Firefighters are visiting Seattle from all over the world this weekend and will race to the top of the Columbia Tower to benefit The Leukemia & Lymphoma Society. Live Music with the Kennedy Brothers starts at 8pm. No cover.
Extended Happy Hour with Zil Sevarg, Monday, March 10, from 4 p.m. until late- Know Liz Graves? She's a Fadó Veteran and goes by Zil Sevarg behind the bar. She's a spicy one, a pistol who isn't afraid to cut you off or kick you out for bad behavior, and tonight she's serving Happy Hour drinks all night. So, come down and enjoy a perfect pint or 3 with Zil Sevarg. http://www.fadoirishpub.com/seattle/happy-hour
Jameson Irish Whiskey Dinner, Tuesday, March 11 at 7 p.m.- A 5-course meal paired with whiskeys from the Midleton Distillery in County Cork, Ireland with Official Jameson Whiskey Ambassador Saragh Killeen.
Tickets are $50 each and available for purchase now.
Paddy's Day Super Pub Quiz, Wednesday, March 12 at 6:30 p.m.- Quizzers should come prepared as its an all-Irish Quiz night! Drink specials and prizes include a big cash $250 cash jackpot! Free to play and new teams always welcome. Teams of 8 or less and reservations suggested. Reservations: 206-264-2700.
Leary Foundation Guest Bartender Event, Thursday, March 13 at 8 p.m.- Guest firefighters will be behind the bar pouring pints to benefit The Leary Foundation. Live music with JP Hennessey, all the way from Ireland at 8 p.m! No cover.
Live music with the Hennessey Brothers, Friday March 14 from 9 p.m. until 1 a.m. Late night drink specials including $3 bottles, $4 shorties $5 shots starting at 9 p.m. No cover.
Super Saturday/Parade Day, Saturday, March 15 - Doors open at 5:15 a.m. for European sports, including English Premier League soccer and 6 Nations Rugby. Live Music with Hennessey Brothers starts at 2pm and Kennedy Brothers at 10pm. No cover. Sounders FC 1:30 p.m. kick off; Fadó is the official Gorillas FC pre-game party headquarters.
Trad Sunday, March 16 from 4 p.m. until 7 p.m. - Doors open early at 6.30 a.m. with European sports, featuring Liverpool v Manchester United and Arsenal v Tottenham. Full brunch menu and live traditional Irish music. Drink specials including $3 mimosas and $10 carafes.
St Patricks Day, Monday, March 17 - Doors open at 6:15 a.m. for " Kegs and Eggs", featuring special brunch menu until 11 a.m. Live Music starts at 3.30 p.m. with Erin MacNamee Band, Hennessy Brothers from 6 p.m. to 9 p.m. and Kennedy Brothers from 10 p.m. until close. Visits from the Seattle Firefighter Pipes & Drums Band throughout the day. $10 Cover charge starts at 1:30 p.m. $15 after 4 p.m. Cover price includes $10 gift card good for your next visit.
About Fadó Irish Pub
Fadó (pronounced fuh-doe) Irish Pub was the first Irish pub to be designed and constructed in Ireland and shipped and installed in Seattle in 2000.Fadó is distinguished by its genuine Irish hospitality, quality of its pints and craic (pronounced 'crack', a uniquely Irish form of fun). Fadó has been voted 'Best Of' by a number of local and national publications, including "Top 10 Soccer bars in the US", by GQ Magazine. Fadó is an official US Soccer bar and an official supporter's bar for Gorilla FC of the Seattle Sounders MLS team. Get more information by visiting the pub's website page, Facebook page at http://www.facebook.com/fadoseattle or by following @fadoseattle on Twitter and following the hashtag #stpatricksday2014