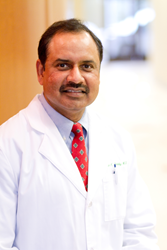 Dr. Reddy, described locally as, "a man of vision with a heart of gold".
Athens, GA (PRWEB) February 25, 2014
Reddy Medical Group has been selected this year for the 2013 Georgia Rural Health Association Award of Excellence.
Dr. Ram K. Reddy's practices in Royston and Danielsville have been awarded the, "Outstanding Rural Health Practice and Practitioner" Award.
The Awards Committee determined that, "Dr.Ram K. Reddy and the Reddy Medical Group are strong rural health advocates". They further felt, "The growth of the practice into medically under served areas of rural Georgia has done much to improve health care access and affordability". This award recognizing Dr. Ram K. Reddy's contributions was presented by the Georgia Rural Health Association at the GHRA Conference in Savannah, Georgia.
Ram K. Reddy, MD, the Medical Director of Reddy & Associates, specializes in Internal Medicine. He has been described locally as, "a man of vision with a heart of gold". He started his primary care practice in 1984 by opening up his clinic in an under served rural county in Royston, GA. When Dr. Ram K. Reddy realized that the Danielsville community had unmet medical needs, he felt compelled to open his second rural clinic in Danielsville in 1992. During his 28 years of practice experience, Dr. Ram K. Reddy has realized that two types of services are needed within the same practice location: chronic care with the convenience and comfort of a primary physician and urgent care addressing sudden illness or injury on a walk-in basis. This new concept of having primary care and urgent care clinics within the same facility was put into practice at both these locations and has been welcomed by the rural community.
Dr. Ram K. Reddy continually strives to better understand and improve the health of rural communities. His practice consistently works to fulfill his "triple aim" of improved health, affordability and patient experience. Dr. Ram K. Reddy and his clinic staff beautifully embody his vision and are always "reddy" to take care of his patients and the community they serve.
"Providing the highest possible quality of care and medical care that exceeds the expectations of our patients throughout rural-Georgia," Dr. Reddy maintains, "Is our goal". Dr. Ram K. Reddy also operates clinics in Hartwell and Athens and plans to open a new clinic this spring in Monroe, GA.
Congratulations Dr. Ram K. Reddy for your vision and service to the rural community.
--------------------------------------------------------------------------------------------------------------------------------------
Reddy & Associate Staff, Sunita Singh was also recognized as the Volunteer of the Year by the Oconee Chamber of Commerce.
Sunita Singh serves as the Vice President of Business Development for Reddy & Associates dba Reddy Medical Group, Reddy Urgent Care and Yuva Medical Spa.
Sunita Singh has won several business accolades and recognitions including prestigious Department of Defense Award for service excellence as well as active citizenship award from Athens-Clarke County Police Department. She was nominated for the 2014 Athena Award and named Volunteer of the Month by the Athens Chamber of Commerce.
Sunita is also the Chair of Athens Chamber of Commerce's LEAD Athens Program, Board Member and President-elect of the University Woman's Club, Co-founder and Board Member of the Indian Association of Greater Athens and General Secretary of RANA National Executive Committee. Sunita Singh is also a board member of the Oconee Chamber of Commerce and has been the Chair of Oconee Chamber's Women in Business group since its inception in 2012.
For her spirit of volunteerism and genuine willingness to help, Sunita Singh was recognized at the Oconee Chamber of Commerce's annual banquet with the 2013 Chamber Volunteer of the Year Award.
Congratulations Sunita, you are well deserving of this award!