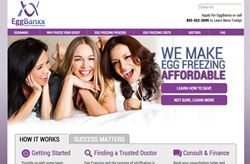 New York, New York (PRWEB) February 24, 2014
FertilityAuthority, the online leader in the $4B fertility market, announces the launch of EggBanxx, the first national network of doctors who offer egg freezing for fertility preservation. EggBanxx makes egg freezing affordable, offering a discount for one, two or three cycle packages, with easy, convenient financing.
It's not news that women's fertility declines with age, and by postponing pregnancy many are later faced with emotionally and financially expensive and draining fertility treatments. By freezing their eggs earlier – in their 20s and 30s – women are proactively taking control of their reproductive health.
"EggBanxx is a natural extension of our business," says Gina Bartasi, Founder and CEO of FertilityAuthority. "We hear from women daily, who are in their mid-to-late 30s, who are not getting pregnant, even with IVF. We are educating and empowering women who want the option of having biological children when they are ready – we want them to have options."
The time is right for egg freezing. It is no longer considered experimental by the American Society of Reproductive Medicine (ASRM), and the use of vitrification, a fast freeze protocol, has greatly increased the success of egg freezing and thawing. More and more fertility practices are providing egg freezing for social reasons, in addition to fertility preservation for cancer patients whose treatments might render them infertile.
"Working with an EggBanxx physician in our network offers women advantages over going to a fertility clinic directly. EggBanxx offers rates up to fifteen percent lower than standard pricing, with no-fee financing and free cryopreservation for 24 months. Additionally, we offer multi-cycle packages. With most egg freezing cycles five to fifteen eggs are retrieved, but experts say that approximately 20 eggs are needed for one pregnancy. By cycling multiple times, women can consider having more than one child," Bartasi adds.
37 fertility doctors have already joined the EggBanxx network in the last six weeks, and Patient Care Advocates are currently working with more than 150 patients who are interested in freezing their eggs with EggBanxx. "There are 41 million single, American women, ages 21-39, so it's fantastic that we finally have an affordable solution for proactive women who want to empower themselves by making smart decisions for both their professional and personal well-being," Bartasi says.
About FertilityAuthority
The FertilityAuthority family of websites provides comprehensive, interactive resources and referrals for women and men seeking quality fertility information, as well as tools to simplify the search for trusted fertility doctors or fertility clinics. With more than one million monthly visits, the websites FertilityAuthority.com, FertileThoughts.com , IVFAdvantage.com , EggFreezingCosts.com, EggBanxx.com, GenderSelectionAuthority.com, TopFertilitlyDocs.com— along with a staff of patient care coordinators — assist in making the important connection between patients and the physicians who can assist them in their family-building efforts.