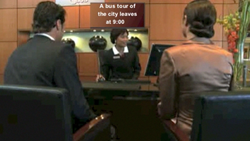 Great service requires more than finger-pointing and grunting.
(PRWEB) February 24, 2014
Translate Your World, developers of language software and mobile applications, introduces its revolutionary "TYWI –Tourism," a suite of software that enables staff and managers to speak up to 78 languages instantly, thereby eliminating the language barrier.
These unprecedented language tools are designed to help facilities attract and retain more international visitors while at the same time improving internal cross-language foreign employee communication.
"I have lived in 17 countries. Each time I went to a new country I found myself ordering mystery food at restaurants, taking unintelligible tours, and using lousy interpreters for important business meetings. With today's technology there is no reason why people should not communicate," says Sue Reager, president of Translate your World. "However, true communication is more than finger pointing, providing service is more than handing out a room key, and an information booth should be capable of sharing information. TYWI smashes the insurmountable language barrier and offers the ability to converse across languages, take your interpreter in your laptop, and type across-languages."
Hospitality and Tourism businesses have struggled for decades to communicate with visitors from Asia, the Baltics, Middle East, and the Americas, and tourist attractions muddle through in the local language, never dreaming that it could be possible to offer their tours in dozens of languages at the same time. In the past, communication using only a smattering of words in another language has been the only option available, yet has never been sufficient to make international guests feel welcome, to answer their questions, and improve their experience.
Nicknamed "The Global Tourism Solution of the 21st Century", TYWI-Tourism is a breakthrough translation software that translates speech as well as text, empowering staff at airports, restaurants, and tourist services to instantly communicate in dozens of languages, and then in turn to understand what international visitors reply in their native tongue. Drivers, information booth personnel, and hotel concierges provide information and directions 78 languages, the deaf communicate everywhere, tour guides are heard live in 35 languages, and facilities quickly create walking tours and menus in dozens of languages.
TYWI-Tourism is simple to use and easy to access. Users go to a webpage, click (or tap) in a web field, and talk. Amazingly, dozens of languages will come out of the system, all in real-time, and recipients choose their preference. TYWI-Tourism is web-based and it functions on any modern device. Some software require no training whatsoever, like the cross-language conversation webpage. Yet TYWI also offers versions that can be trained and improved for high accuracy including real-time voice translation for conferences, business meetings, and website live chats.
Translate Your World fuses powerful yet rarely used "side technologies" created by Microsoft, Google, Nuance, Livestream, Apple, and others. These side technologies are strong, tested, and remarkable yet rarely used by the general public. They play prominent roles in this new global tourism solution by Translate Your World. The fusion of these technologies also means that TYWI-Tourism can be used on any modern device or OS including smartphones, tablets, desktops, laptops, and wall monitors.
TYWI-Tourism brings a freedom of communication never before possible while empowering all hosts to communicate with their guests. The definition of communication is changing with today's technologies and TYWI-Tourism is, indeed, opening the door for the advanced global tourism solutions of the 21st Century.
For more information or to request a free demo visit Translate Your World at: http://www.TranslateYourWorld.com.
*****
About Translate your World
Translate your World International ("TYWI") develops numerous online web software that function in dozens of languages with voice and text. The Translate Your World suite includes applications for international web events, global mobile applications, media subtitling, and across-language conversation. For information, visit http://www.TranslateYourWorld.com or email to contact(at)translateyourworld(dot)com.