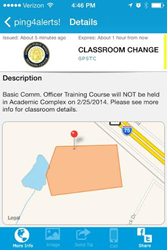 (PRWEB) February 25, 2014
Beginning this spring, The Georgia Public Safety Training Center (GPSTC) will deploy ping4alerts!, the mobile communications solution, to instantly notify students and staff of public safety events, severe weather, and on-campus operations and information.
"Using ping4alerts!, GPSTC has a tool that delivers relevant and timely information directly to students and staff's mobile devices," said Director of IT, Adam Ham. "As a facility dedicated to educating and developing young professions into fully-trained public safety personnel, GPSTC wants to take advantage of this new technology."
Ping4alerts! is a free iOS and Android app that uses the location based technology inherent in today's smartphones to deliver notifications within a highly-localized area. Using any web-browser, GPSTC locations can notify an entire campus or message specific training complexes and facilities. Ping4alerts! protects user anonymity and does not require users to provide any personally identifiable information such as a phone number, street address, or email address. These mobile notifications are delivered over the Internet through GPS, cellular, and available Wi-Fi networks.
Georgia Public Safety Training Center has eight campuses across Georgia and offers comprehensive training for all state and local public safety-related units of government including police officers, firefighters, 911 operators, coroners, emergency management officers, rescue officers, jail officers, and other emergency service personnel.
By placing various geofences around Georgia Public Safety Training Center's eight campuses, students and staff can receive public safety and weather alerts plus notifications regarding on-campus operations, events, and promotions. Considering the nine individual training courses at the central, 1,000 acre campus in Forsyth, students can receive helpful information regarding changed or cancelled training courses. Students can also receive the latest specials from one of the five food stations in GPSTC's cafeteria.
"Georgia Public Safety Training Center's progressive adoption of ping4alerts! to keep students safe and engaged within their community is an outstanding initiative," said CEO and President, Jim Bender. "By protecting the students who are also working towards a future in public safety, Ping4 Inc.'s partnership with GPSTC could not be more perfect."
GPSTC students and staff are encouraged to download ping4alerts! by simply visiting the App Store or Google Play store.
About Ping4 Inc.
Ping 4 Inc., is a Nashua, New Hampshire mobile communications startup that delivers real-time, location-based alerts to any iOS or Android mobile device. Public safety agencies license the platform to keep citizens informed of extreme weather events and other fast-moving situations. Consumers are not required to give up any personally identifiable information. User identity is 100% protected. More information is available at http://www.ping4.com.
Contact: Kyla Natali
Public Relations Manager
Email: Kyla.Natali(at)ping4(dot)com
Phone: (603) 548-8533