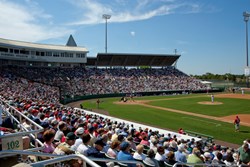 Denver, CO (PRWEB) February 22, 2014
With no winter respite in sight for much of the north and east, the only option is to fly south for relief: trade in that icy, wind-driven tundra for those warm welcoming breezes and sun-kissed grassy knolls.
Last year, nearly 3.4 million fans attended MLB's early season camps in Florida and Arizona. Based on current ticket projections, the number of fans heading south could hit 3.5 million or more this year... an unexpected silver lining to the arctic cold gripping most of the continental U.S..
In terms of power rankings heading into the season, based on Bleacher Report data, the top ten teams currently are the New York Yankees, Tampa Bay Rays, Kansas City Royals, Oakland Athletics, Cleveland Indians, Los Angeles Angels, Detroit Tigers, St. Louis Cardinals, Boston Red Sox, and Texas Rangers.
"As far as ticket sales, the current leaders are the Yankees, Cubs, Red Sox, and Orioles," said Marta Ault at online ticket marketplace BuyAnySeat.com. "Ticket prices are low and the weather is warm, making these events a big draw."
"That's why we're proud to offer fans the most comprehensive and continuously updated selection of sports tickets online, with a worry-free guarantee to protect their purchase," added Ault.
"To access the full line-up of MLB Baseball tickets now available, customers can go to BuyAnySeat.com and click on MLB in the Sports Header, then select their team and their tickets."
Full-squad workouts are in full swing around the league and MLB preseason games officially begin on February 26, 2014. The Yankees in Tampa led 2013 Florida spring training attendance with an average of 10,173 fans, while the Diamondbacks topped turnout in Arizona with an average attendance of 11,021.
While Florida and Arizona are now the only states that host spring training, this was not always the case. MLB teams have held spring training away from home since the 1890's in such places as Hot Springs, Arkansas; Tulsa, Oklahoma; New Orleans and later Phoenix and West Palm Beach.
The Pittsburgh Pirates traveled to Honolulu, Hawaii, while others spent time in Puerto Rico and in cities of northern Mexico during the 40's and 50's. The Brooklyn Dodgers and New York Yankees also trained in Havana, Cuba and the Dominican Republic during the late 40's and 50's.
The Detroit Tigers are credited with being the first team to conduct spring training camp in Arizona. They trained in Phoenix in Riverside Park at Central Avenue and near the Salt River in 1929. Meanwhile the Philadelphia Phillies became the first of the current major-league teams to train in Florida after they spent two weeks in Jacksonville, in 1889. Currently 15 teams train in Florida and 15 in Arizona.
The 2014 Major League Baseball season is set to begin on March 22 in Sydney, Australia between the Los Angeles Dodgers and the Arizona Diamondbacks. The 2014 Opening Series featuring the National League West rivals will be Major League Baseball's first regular season games to be staged in Australia. MLB has previously opened seasons in Monterrey, Mexico (1999); Tokyo, Japan (2000, 2004, 2008, 2012); and San Juan, Puerto Rico (2001).
Fourteen games, including 10 divisional match-ups, comprise the traditional Opening Day schedule on Monday, March 31st. Nine games are scheduled for Tuesday, April 1st, including the season debuts for the Houston Astros and the New York Yankees at Minute Maid Park. The final scheduled day of the 2014 regular season will be Sunday, September 28th and will feature 12 divisional games.
Other important dates this season include Jackie Robinson Day on Tuesday, April 15th; the first day of the 2014 MLB Draft on Thursday, June 5th; and Baseball's 85th All-Star Game at Target Field in Minneapolis on Tuesday, July 15th.
This year's 162 game season will once again be split equally between home and away games for each of MLB's 30 squads. That adds up to 2,430 games yet to be played in this year's regular season, not counting the up to 20 postseason games the World Series finalists might play. The Boston Red Sox are the reigning World Series champs having clipped the St. Louis Cardinals 4-2 last October.
MLB Baseball has the highest season attendance of any sports league in the world. (Source: wikipedia.org)
To shop for MLB Baseball tickets, visit BuyAnySeat.com.
About BuyAnySeat.com: An online ticket marketplace, BuyAnySeat.com connects sports, theater and other live entertainment fans to an extensive network of ticket sellers worldwide. The site's simplified listings and navigational tools enable shoppers to easily locate, compare and purchase inexpensive, discounted or lower-priced tickets to virtually all advertised sports and entertainment events around the globe.
The ticket marketplace, which is PCI-compliant and Norton Secured, also provides customers with a complete Worry-Free Guarantee on all ticket purchases. Based in Denver, Colorado, BuyAnySeat.com is a subsidiary of Denver Media Holdings. For more information, please visit http://buyanyseat.com.