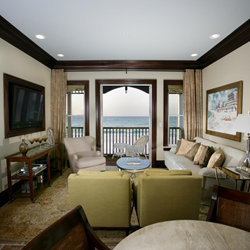 The Henderson Park Inn staff would like couples to know that they are there to provide guests the best beach vacation experience they have ever had.
Destin, FL (PRWEB) February 24, 2014
Couples are drawn to the sandy shores of Destin each year, in search of a getaway to beach living and sunshine. With spring weather approaching, Henderson Park Inn, the top rated hotel in Destin, has announced all-inclusive amenities to make spring vacation traveling easier.
Guests can lounge on the Inn's private beaches with a freshly opened bottle of wine or eat a midnight snack without paying any additional cost since the beachfront hotel provides the most inclusive amenities in Destin.
"At Henderson Park Inn, we understand how important it is to have time to relax, so we make sure guests never have to leave the property unless they choose to," said Ryan Olin, Innkeeper at Henderson Park Inn. "Our staff provides a high-end experience that guests cannot find anywhere else."
Now, guests visiting Henderson Park Inn can expect to find a bottle of wine, roses and grapes waiting upon checking into their hotel room. Along with excellent, proactive customer service, the Destin hotel prides itself on the unique amenities provided inside each suite.
Overlooking the Henderson State Park and Gulf of Mexico, each of the Inn's 35 suites feature a full kitchenette, including complimentary gourmet coffee and bottled water. Each morning chefs provide a full breakfast with made-to-order omelets and Belgium waffles.
In the afternoon, the hotel provides gourmet lunches with a choice of picnic-style salads and sandwiches that are boxed to allow guests to eat on the beach, in the dining room or in their private suite.
The hotel provides complimentary DVD check-out throughout each guest's stay, as well as bicycle and lock use. On the beach, employees set up beach chairs and umbrellas each day for guests' use and provide a happy hour each day at sunset.
"The Henderson Park Inn staff would like couples to know that they are there to provide guests the best beach vacation experience they have ever had," said Olin. Whether visiting for a romantic honeymoon, short vacation or destination wedding, the Henderson Park Inn provides a unique and memorable experience.
Voted the most romantic hotel in North America, Henderson Park Inn opened its doors in 2007 as an industry leader in high quality and exceptional customer service. The all-inclusive, adult only resort is a recipient of both the 2013 Certificate of Excellence and the Travelers' Choice Award from TripAdvisor. Visitors to the bed and breakfast in Destin will be excited for the breathtaking ocean views on Henderson Park Inn's private beach, as well as the countless complimentary amenities including a gourmet breakfast and picnic lunch. Offering 24-hour check-in, Henderson Park Inn is located at 2700 Scenic Highway 98, Destin, FL. For additional information about Henderson Park Inn, visit their website at http://www.hendersonparkinn.com or give them a call at 866-398-4432.