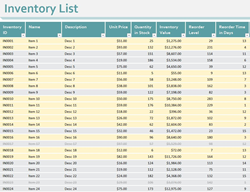 No matter the industry, keeping an accurate inventory count is a must.
(PRWEB) February 22, 2014
No matter the industry, keeping an accurate inventory count is a must. Failure to keep track of important goods and items can sometimes lead to catastrophic consequences. There's no doubt the task of tracking inventory can be a tedious one, but its' also a necessary evil that can be made easier with the use of inventory templates.
Now, ExcelTemplates.net – a leader in providing online templates and spreadsheets – has recently expanded its collection of complimentary inventory templates are released them for all on the World Wide Web to enjoy.
"The Microsoft inventory templates we previously featured were some of the most popular we had available on the site," said ExcelTemplates.net spokesperson Mary Flynn. "That's why we decided to quadruple the number of inventory sheets and give businesses even more helpful options."
The standard and traditional inventory count sheets are still available on the site. Now, complimentary templates specifically designed for inventory in bookstores, wine retailers, restaurants, grocery stores, convenience stores and warehouses are available. Visitors can also find a variety of personal inventory templates for things such as tools, parts, moving and much more.
"No matter what you need to take inventory of, Microsoft has created a template for you," said Flynn. "Like with all the other templates featured on our site, each of the new inventory templates downloads in seconds at absolutely no charge."
In addition, ExcelTemplates.net has added some new templates specially made for 2014. With the calendar page getting ready to turn, the printable March 2014 calendar is now available. Also, the employee vacation tracking calendar template is back for 2014.
"The year is off and running, but it's never too late to get organized," said Flynn.
For the new line of inventory templates, or for hundreds of other helpful Excel, Word and Microsoft documents, please visit ExcelTemplates.net today.