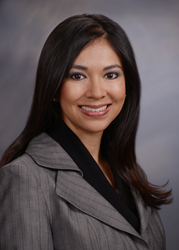 Denver, Colorado (PRWEB) February 24, 2014
Ms. Mallavarapu graduated summa cum laude in 2001 with a B.A. in Psychology and a minor in Statistics from Boston University. After receiving her M.A. in Psychology, also from Boston University, she realized that her true desire was to attend law school after seeing how legal complications could have devastating effects on people's lives. She received her J.D. from the University of Colorado School of Law in 2010 and has been practicing law and enjoying Colorado since then.
In law school, she had the opportunity to participate in two clinics, the Family Law Clinic and the Criminal Defense Clinic. It was there that she realized her passion for helping people through very difficult times. She successfully represented indigent clients at hearings, mediation's, and at trial.
After law school, Ms. Mallavarapu worked at two prominent Denver law firms. Her legal practice focused on complex commercial litigation at both the trial and appellate level. First, she worked for two years as an employment litigation associate at a Denver law firm where she represented clients in the telecommunications, natural gas, oil and gas, healthcare, and construction industries. In this role, she gained experience working on complex issues with clients and negotiating with adverse parties in preparation for all stages of litigation, including advising shareholders regarding depositions and witness/trial preparation. She also drafted complex pleadings, employee offer letters and handbooks, separation agreements, settlement agreements, and general releases. She also worked at another prominent Denver litigation firm for almost one year, where she handled complex civil litigation cases, including defending companies against large class actions, product liability claims, and employment discrimination claims.
In addition to practicing law, she is also involved in the National Asian Pacific American Bar Association, the South Asian Bar Association, the Colorado Women's Bar Association, and the Colorado Bar Association.
The Harris Law Firm is pleased to welcome Sangeetha Mallavarapu to "Colorado's Family Law Team."
About The Harris Law Firm:
Established in 1993, The Harris Law Firm is Colorado's largest family law firm with offices in Denver and Fort Collins. The firm now employs a team of 19 skilled attorneys. In addition to divorce and child custody and child support issues in Colorado, The Harris Law Firm also handles issues regarding maintenance, paternity, grandparents' rights, and step-parent adoptions.
For more information on The Harris Law Firm, including articles written by our family law attorneys, please visit our website.