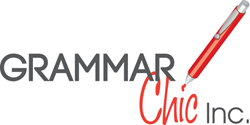 Charlotte, North Carolina (PRWEB) February 24, 2014
In the Age of Google, companies are increasingly defined by the written content they have posted to the Web. The first impression a consumer has of any company is likely to be based on the company's website, blog, or social media accounts, which makes it imperative for business owners to invest in well-crafted content that speaks to their company's value and appeal. The Charlotte, North Carolina-based Grammar Chic, Inc. is pleased to help business owners from across the country craft compelling online content that spans various media—and now, the company is making its services more winsome than ever, with a significant new promotional campaign.
From now until the end of March, customers who spend $450 or more on website content will receive a free month's worth of social media content, for the social media channel of their choice. This could encompass a full month of daily posts, pre-written and ready for publication on Facebook, Twitter, LinkedIn, or Google+.
"What we have found is that many business owners become aware of the need for strong, compelling online content and begin developing this content all at once," comments Amanda E. Clark, CEO and editor-in-chief at Grammar Chic, Inc. "This can be overwhelming, but we hope this promotion makes it easier for business owners to get serious about content creation—not only getting their website polished and professional, but also getting a good start on social media."
The writing team at http://www.grammarchic.net and http://www.chiccontentwriting.com has long offered services in Web content writing. The Web content writing process includes a consultation call, which allows the business owner to share his or her vision for the content and also any key facts or values about the business. The Grammar Chic writer then uses the information gathered to produce content that reflects the business owner's vision but that is also appealing to users—and to search engines.
"We have produced website content for businesses in numerous verticals, ranging from personal trainers to manufacturing companies to telecomm enterprises," Clark states.
In addition, Grammar Chic, Inc. provides regular social media marketing services for a variety of companies. Grammar Chic's content marketing services encompass full consultation and strategizing, plus the creation and distribution of content on a range of social media channels. In this new promotion, the company will offer Web content clients a month's worth of compelling, user-friendly content that's ready for deployment.
"Many clients come to us for help with their website content and then transition into our content marketing service," Clark says. "We hope that, in this new promotion, we are able to give business owners an accurate glimpse into what content marketing is, and how easy and effective it can be."
Business owners interested in taking advantage of this promotion need only call or email the Grammar Chic team and mention this campaign. The company can be reached at 803-831-7444, online at http://www.grammarchic.net or via info(at)grammarchic(dot)net.
ABOUT:
A professional writing company located in Charlotte, North Carolina, Grammar Chic, Inc. is passionate about helping its clients shine through superior written content. The team employs all in-house, American writers who are seasoned and adept in content marketing, social media marketing, Web content writing, blogging and more. Grammar Chic's CEO, Amanda E. Clark, is a nationally known thought leader in digital marketing and copywriting. To learn more about Grammar Chic, Inc. and the services that its team offers, visit http://www.grammarchic.net. Interested individuals are invited to "like" the company's Facebook page and follow @GrammarChicInc on Twitter.