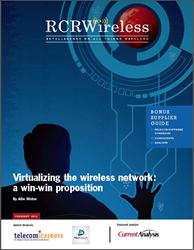 Network virtualization is rapidly becoming a hot topic for telecommunication providers, with rapid advancements from vendors leading to real gains and opportunities in the market. - Allie Winter, RCR Wireless News Technology Reporter
Austin, Texas (PRWEB) February 24, 2014
Network virtualization is one of the most viable methods for carriers to handle growing demand for mobile data services, concluded industry experts from Ericsson and Infonetics in RCR Wireless News' latest feature report, 'Virtualizing the Wireless Network - A Win-Win Proposition.' Other key takeaways include how software-defined networks (SDN) and network functions virtualization (NFV) can work in tandem to forge greater efficiencies and the challenges that still remain in meeting carrier demands for robust software.
Download this report to learn:

Where is the need for network virtualization coming from.
How SDN and NFV are central to network virtualization platforms.
Where are we at today in terms of the rollout and adoption of network virtualization platforms.
Challenges facing the broader adoption of network virtualization.
Where the financial return on investment from network virtualizations will come from.
Watch the complimentary editorial webinar featuring:

Dan Meyer, Editor-In-Chief, RCR Wireless News
Peter Jarich, VP of Consumer and Infrastructure, Current Analysis
Rick Aguirre, President, Cirries Technologies
Wireless use is no longer about simply making phone calls and sending texts. We all know we live in a smartphone, Internet-access-in-your-pocket type of world. In that world, networks are constantly being updated and challenged. With the way wireless network functions are routed and stored today, it's a lot of work and not as efficient as it could be. Because of this, carriers and service providers are constantly looking for ways to improve. With this in mind, software is becoming a core component of wireless networks, especially as mobile operators look to trim the costs associated with rolling out advanced, next-generation networks.
"Network virtualization is rapidly becoming a hot topic for telecommunication providers, with rapid advancements from vendors leading to real gains and opportunities in the market," said RCR Wireless News Technology Reporter Allie Winter. "While there still appear to be significant hurdles that need to be overcome, the benefits of SDN and NFV will be hard for telecom operators to ignore."
The report also looks at how the need for standards is shaping both the development of network virtualization and the adoption of platforms. The debate around standards is sure to impact how the industry moves forward in terms of increased virtualization.
"In the network environment, if say Amazon needed additional service and they had to a number of different instances at a call center, all of the sudden it will be bombarded," explained Rick Aguirre, president of Cirries Technologies. "It may take days to provision the network to accommodate that. Especially with programming routers and things of that sort to make sure the quality of service can be met. Virtualization gets around that."
About RCR Wireless News
Since 1982, RCR Wireless News has been providing wireless and mobile industry news, insights, and analysis to industry and enterprise professionals, decision makers, policy makers, analysts and investors. Our mission is to connect, globally and locally, mobile technology professionals and companies online, in person, and now on video. Our dedication to editorial excellence coupled with one of the industry's most comprehensive industry databases and digital networks leads readers and advertisers to consistently choose RCR Wireless News over other industry publications. http://www.rcrwireless.com