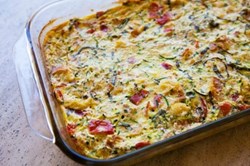 (PRWEB) February 22, 2014
New England is all about "one-pot cookery," and Maine is no exception. The familiar presence of crock pots and potlucks featuring the cornucopia of Maine flavors nurture both body and spirit, bringing together communities and generating a sense of warmth, simplicity and caring.
Now, Chef Mac Arrington embraces this one-pot mindset and combines all of the best parts of breakfast with Maine lobster into a one-dish casserole that will have everyone going for seconds: the Ultimate Lobster Breakfast Casserole.
Ingredients include 2 to 3 frozen Lobster Tails, steamed and diced; 2 frozen hash browns; ½ onion, minced; ½ red bell pepper, seeded and diced; 1 cup mushrooms, sliced and roasted; ½ cup gruyere cheese, grated; 6 eggs; ½ cup milk; 2 Tbsp chives, chopped; a few dashes hot sauce; salt & freshly ground black pepper to taste.
To prepare, begin with the lobster. Remove the steamed lobster tails from the boiling water and place directly into running cold water or into a bowl of ice water to cool down enough to handle. Remove all of the meat. Dice and reserve for later.
Preheat the oven to 350 F.
In a sauté pan over medium-high heat, sweat onions and peppers until they are soft and aromatic (about 4 to 5 minutes). Remove the onion and peppers from the pan; add a little more oil; and turn the heat up to high. Once the pan is nice and hot, add in mushrooms. Strive for a good sear on them to create a roasted flavor.
Remove mushrooms from the heat. Combine eggs, milk, hot sauce, and chives together in a bowl and whisk vigorously to incorporate a little air then season with salt and freshly ground black pepper.
Begin to layer in a baking dish. Lay out a base layer of frozen hash browns. Top with all of the cooked vegetables. Add a layer of lobster meat and top with gruyere. Once those layers are complete, season with salt and freshly ground black pepper. Pour in the eggs and carefully place the baking dish into the oven and bake for 35 to 45 minutes until the eggs have set. Remove the casserole from the oven, and let sit for 5 minutes before slicing and serving. Relax and enjoy this elegant, delicious casserole!
For more delicious and creative offerings, visit Get Maine Lobster's wide range of seafood, access other healthy lobster recipes or view current specials by visiting GetMaineLobster.com or calling (866) 562-.4817.
About GetMaineLobster.com
GetMaineLobster.com, a division of Black Point Seafood and Black Point Gourmet, hand-selects the finest Maine lobster, seafood and beef products for convenient distribution throughout the United States. Their passion is to make fresh, quality seafood readily available to customers across the country, which is why they buy from only the most trusted, well-established suppliers to ensure that they receive the finest products available.
GetMaineLobster.com was selected out of the more than four million small American businesses served by Chase bank to represent its new Platinum Business Checking product for its 2013 national advertising campaign.