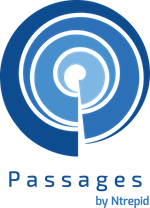 Passages combines four capabilities that have never been unified before in a single product, mitigating critical issues currently going un-addressed.
Herndon, VA (PRWEB) February 24, 2014
Combining four capabilities that have never been unified in a single product before, Ntrepid Corporation introduced Passages today at the RSA security conference in San Francisco. Passages is a groundbreaking, enterprise-class browsing solution that essentially eliminates the browser, widely seen as the source of more than 90 percent of the malicious code infecting computers, as a threat. Further, Passages prevents users from being targeted by hackers or competitors by concealing their specific online identity. Passages also enables users to control their online point of presence, providing them with the ability to look like they are physically some place else. Passages accomplishes this and more by combining in one product malware immunity, Global IP Hubs, a secure storage system, and an enterprise management suite.
"Passages combines four capabilities that have never been unified before in a single product available on the open market," says Lance Cottrell, Chief Scientist at Ntrepid Corporation and founder of Anonymizer (wholly owned by Ntrepid Corporation.) "This combination mitigates critical issues currently going un-addressed."
Organizations of all sizes can use Passages and be assured that their computers, networks, and data are not compromised because Passages is immune to malware. Each browsing session begins with a unique virtual machine (VM), a virtual duplicate of a machine. The VM isolates all online activity safely away from the user's computer. Any malware encountered during a session is destroyed along with the VM at the end of the session. This guarantees a clean environment every time the user opens a Passages browser.
Identity and location can significantly impact what someone can see online. Passages gives users control of this with Ntrepid's Global IP Hubs and patented Identity Control technology. Users get to decide where they want to appear from online and whether or not they can be tracked or identified. Also, since each Passages session is initiated with a brand new VM, any potentially identifying browser attributes, such as language, operating system, browser version, and plugin versions, are masked. This prevents sites from using cookies and other tracking methods to link a user's activities across multiple sessions.
Since Passages isolates everything that comes from the Web, one might think that safely moving documents to and from the secure environment would be difficult, but this is not the case. Passages includes SafeHold, its own intuitive, cloud-based, secure file transfer system that allows users to access only the files they want and trust for download to any computer. All files that come through SafeHold are automatically scanned for malware and safely quarantined when necessary, preventing malicious content from ever touching the user's workspace.
Passages also lends the ability to capture detailed information about all user activity on the Web with its Insight managerial suite. Insight provides comprehensive oversight and analytics of all user activity directly from the browser. This activity is indexed for available review. Metrics and reports can also be generated in multiple formats to provide historical information for ongoing activities.
Ntrepid will be giving demos of Passages at booth 327 on the South Expo floor at RSA. Product information can be found at GetPassages.com.
About Ntrepid
Ntrepid Corporation, and before that Anonymizer, Inc., have been creating secure and anonymous browsing solutions for nearly 20 years. Ntrepid also provides a number of technology solutions that solve operational challenges in the areas of information management, analytics, linguistics, and tracking.