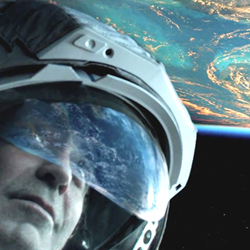 Why can't I be a guy with a 400-mile lens, a tourist, taking pictures and sticking them on the Internet? -- George Clooney
LOS ANGELES (PRWEB) February 24, 2014
It was a match made in heaven, or at least the heavens: George Clooney launched a major satellite-based charity in December of 2010 and that same month was offered his astronaut role alongside Sandra Bullock in the movie "Gravity." These two creations then lived in parallel worlds -- one on studio lots and the other in the real world. One lived amid art and drama, while the other struggled to reduce human suffering. They both took place in orbit around the world, with significant contributions by George Clooney.
Before starting his international charity "Satellite Sentinel Project," to take satellite images that would expose acts of genocide and other violent abuses on the world below, George had already been working with friends and media for years trying to stem the deaths and destruction in Darfur. In fact two years earlier he had joined with Don Cheadle, Matt Damon, Brad Pitt, David Pressman and Jerry Weintraub to form "Not On Our Watch," a group that focused global attention and resources on putting an end to mass atrocities around the world.
While supporting that group, George's "Satellite Sentinel Project" arose spontaneously during a trip he took to Southern Sudan with John Prendergast, a founder of the humanitarian "Enough Project." Seeing the continued suffering in that African nation, George said, "Why can't I be a guy with a 400-mile lens, a tourist, taking pictures and sticking them on the Internet?"
That inspired the two men to actively bring in partners and roll out their satellite-based project two months later. It has since spawned a number of headline stories accompanied by graphic images that forced new atrocities into the open. Those images are being used to pressure governments into stopping the suffering in countries such as Sudan.
The making of "Gravity" also takes place in the world of satellites and astronauts circling the globe. There is no way to know what twist of fate brought George onto this movie at the same moment his humanitarian project was launched, nor whether the fictional story will eventually benefit his real life efforts.
Yet for George Clooney to end up in movies was not at all surprising since he was born to a TV host father and beauty queen mother on May 6, 1961. The medical program "ER" gave him his breakthrough role and made him America's heartthrob. But serious work was part of the recipe too, as he showed by winning Oscars in "Syriana" as Best Actor, and for "Argo" as producer. In "Gravity" George played a strong role then left the stage to Sandra Bullock for her tense journey through space. On a more humorous note, George had a number of eyebrow-raising experiences in his acting and real life, as recounted in his brief but revealing Boomers Life biography.
BoomersLife.org is a popular home on the web for Baby Boomers, due to its entertaining insights into the people, music and issues that make up this surprisingly active and influential community.