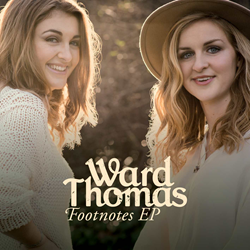 The girls (Ward Thomas) are simply amazing! We all were just floored. - WXFL radio, Muscle Shoals, AL.
Nashville, TN (PRWEB) February 25, 2014
Multiple announcements have come this week for nineteen year-old English twins and Country Music duo, Catherine and Lizzy Ward Thomas. The Ward Thomas duo has been confirmed to perform twice during Country 2 Country 2014, a two-day music festival in London featuring Brad Paisley, The Band Perry and the Zac Brown Band. Ward Thomas will play both the Town Square Stage and the 'O2 Phone Shop Stage on March 16 as part of the Pop-Up Stages for up-and-coming acts.
The Ward Thomas duo has also announced an April 7 release date for their "Footnotes" EP. Three of the four tracks were recorded in Nashville and produced by Country recording session notables Bobby Blazier and Chris Rodriquez. "Take That Train" features Grammy Award-winning Michael Omartian on keys. A fourth track on the EP, a cover of "Caledonia," was produced by Matt Greaves in London and has been included in a recent international television documentary. A video of the title track, "Footnotes (Happy Endings)," was filmed and directed by producer Peter Minns and debuted on multiple outlets this week.
The Ward Thomas duo is currently on a 15-city tour across England prior to their arrival in London for the 'O2 Pop-Up Stage performances. They have been building audiences both in the UK and in America, focusing their touring around promotional radio appearances close to the Nashville area while continuing to record. They are currently scheduled to return for a US tour later in March. Dates for the US tour will be announced soon, see wardthomasmusic.com for details. For booking information, USbookings(at)wardthomasmusic(dot)com.
Reaction to Ward Thomas has been strong in the US with comments such as "Those girls, instantly won the room over, with their pure hereditary harmonies," from WKDZ, the (US) National Association of Broadcasters 2013 Small Market Station of the Year and "The girls are simply amazing! We all were just floored" was the reaction from WXFL in the iconic music home of Muscle Shoals, AL.
Lizzy and Catherine Ward Thomas grew up on a livestock farm in Hampshire, England; born into a creative family line comprised of authors, inventors, visual artists and actors. Choir practice at home honed their 'twin-blend' harmony and their thirst for adventure continues to produce an ever-growing story file for their songwriting. What started as music they did for fun was transformed when they first heard American country music and they count Carrie Underwood, Johnny Cash, the Dixie Chicks and Alison Krause as key influencers. A full-length album from Ward Thomas' Nashville sessions is scheduled for a summer release.
WARD-THOMAS
UK EP: FOOTNOTES (Release: 4/7/14)
WardThomasMusic.com
@WardThomasMusic
Area Code 615, 724 (dash) 7644