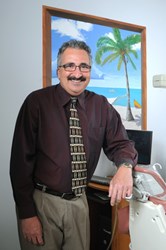 Monroe, CT (PRWEB) February 22, 2014
For Gum Disease Awareness Month in February, Richard Amato, DDS, is educating his patients on gum disease symptoms and the various treatments available today. Traditional methods of treatment for advanced periodontal disease can actually contribute to further gum recession, because they rely on a scalpel to cut away damaged tissue.
With the FDA-cleared minimally invasive surgery called the Laser Assisted New Attachment Procedure (LANAP®), Dr. Amato helps patients treat gum disease without further gum recession, in as little as one office visit. The computer-guided laser targets its heat on the damaged gum tissue and infection, treating the sources of the gum disease with minimal bleeding and a rapid recovery time, with many patients able to return to work the same day as the procedure.
Among the signs of gum disease, recession is an indicator of serious conditions that will go on to damage the mouth if left untreated. Fortunately, Dr. Amato is trained and certified to offer a revolutionary new laser gum disease treatment that eliminates infection and damaged tissue, leaving healthy tissue intact. Among the benefits of the laser procedure over traditional cut-and-sew style of gum surgery, the laser technique does not contribute to additional gum recession, and in fact has been shown to stimulate growth at the roots, resulting in a healthier support for teeth.
Contact Dr. Amato at his office for more information on the services available to combat gum recession. Visit his website at http://www.connecticutperiodontist.com for more information on the diverse range of dental services and gum disease treatments that Dr. Amato offers to help his patients enjoy a great smile and a healthy mouth.
About the Doctor
Dr. Richard Amato is a Periodontist and Dental Implant Specialist who provides the most advanced technology for his patients in Monroe, Connecticut. He has placed thousands of dental implants since 1989. Dr. Amato graduated first in his class with a DDS degree from Stony Brook University. Dr. Amato then completed a full time multi-year specialty residency and received his Certificate of Proficiency in Periodontics from Eastman Dental Center at the University of Rochester. He is part of one percent of dentists in the USA providing the LANAP® FDA cleared laser procedure for gum disease treatment. Dr. Amato is the first and most experienced dentist to provide LANAP therapy in Fairfield County Connecticut. To learn more about Dr. Amato and his dental services visit his website at http://www.connecticutperiodontist.com and call (203) 712-0917.