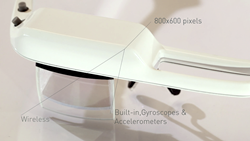 We spent several years creating world class genuine AR eyewear for industry and the military," said Zile Liu, CEO and founder of LASTER Technologies.
Sunnyvale, CA and Paris, France (PRWEB) February 24, 2014
LASTER Technologies, creator of SeeThru Augmented Reality (AR) eyewear, announced a 'Three for Free' and 'Four for Free' Kickstarter referral program. Anyone that refers three people that ultimately contribute to SeeThru's Kickstarter campaign beginning at the $349 funding option will receive a complimentary pair of LASTER SeeThru AR Main Edition eyewear. If they refer four contributors that invest at $349 or more, they will receive a complimentary SeeThru Special Limited Edition signed by the LASTER development team.
"We spent several years creating world class genuine AR eyewear for industry and the military," said Zile Liu, CEO and founder of LASTER Technologies. "Our next goal was to take that technology and offer the same quality to the consumer. SeeThru is the fulfillment of that commitment. Now we want to up the ante and help people see an enriched view of the world—so we're giving away SeeThru to those that can get at least three people to contribute to the SeeThru Kickstarter program. It's a one of a kind offer that will only be available until March 15th 2014."
SeeThru is the only consumer AR eyewear product that offers technology and features based on enterprise class AR solutions. SeeThru wearers see the real world through their own eyes rather than through the lens of a camera. AR content is displayed within the wearer's natural field of vision, allowing them to experience AR content unadulterated by a camera.
Providing a larger field of view and higher quality images than other glass products, SeeThru also displays data in front of the viewer—avoiding the awkward looking up and to the right that other glasses require. This allows for a higher quality viewing experience that not only enhances visibility, but makes activities more enjoyable and safe.
LASTER SeeThru uses GPS location information coupled with accurate, built-in sensors (gyroscopes, accelerometer and a compass) to detect orientation and position determining exactly where the wearer is and in which direction they are looking. And LASTER SeeThru does all of this without a socially invasive camera, ensuring privacy for everyone around the wearer. To receive the complimentary SeeThru eyewear, participants will simply send an email to referralprogram(at)LASTER(dot)fr and provide the names and email addresses of their referred contributors. After the Kickstarter campaign ends, LASTER will contact all backers to confirm shipping information and to acquire customization information (left or right eye dominance), and the confirmation of referrals will be made. Details on how to secure a free SeeThru can be found at: https://www.kickstarter.com/projects/496333639/laster-seethru/posts/757038.
SeeThru glasses can be acquired for as little as $349. The Kickstarter page can be found at http://www.LASTER.fr/kickstarter. Additionally, LASTER is now offering complimentary shipping to anywhere in the world with a $349 contribution to the Kickstarter project.
About LASTER Technologies
Founded in 2005 and based in Paris, France and Sunnyvale, California, LASTER Technologies was the first manufacturer to introduce the concept of the consumer augmented reality experience. LASTER SeeThru gives wearers the only genuine AR product on the market, delivering higher definition and quality than any other wireless eyewear manufacturer, at an affordable price. LASTER's world-leading engineers are wearable device experts specialized in optics, opto-mechanics and computer vision. LASTER licenses their patented core technology to other glass manufacturers. Enterprise customers include medium and large corporations and several branches of the military. Get more information at http://www.LASTER.fr.
###