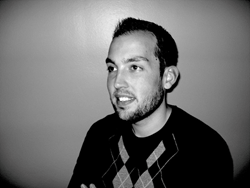 We are delighted to name a professional of Seth's caliber as the 2013 International Brand Master.
Parker, Colorado (PRWEB) February 24, 2014
Seth Odell, Director of Interactive Marketing at Southern New Hampshire University (SNHU), was named the 2013 International Brand Master today. This international award, in its fifth year, is presented annually to an exemplary educational brand manager by Educational Marketing Group, Inc. (EMG) of Colorado.
Mr. Odell took the top honor for his ability to transform a relatively unknown brand previously focused on affordability and flexibility and struggling with enrollment and finances, into a nationally recognized, fast-growing brand that stands for student support, service and intimacy.
Mr. Odell's key to success was taking an integrated marketing approach and utilizing internal and external campaigns to ensure message clarity. The national TV campaign, "See Yourself Succeed," revamped and put a fresh twist on humanizing content and student achievement pronouncements that are often considered stale and overused in higher education marketing.
"When Seth Odell joined us we were a relatively unknown regional university struggling to grow our enrollments. Today we are a national brand and the third largest non-profit provider of online degrees in the country," said Paul LeBlanc, President of SNHU.
The University went from 2,000 online students to roughly 40,000, while the main campus enrollment rose from 2,000 traditional students to 3,000. President Obama named SNHU as a model program in his College Affordability Tour in 2013, and Fast Company listed it number 12 in 2012's Most Innovative Companies – the only institution of higher education to make that list.
Mr. Odell was up against an initial field of 13 nominees, eight of whom hailed from the U.S., four from Canada, and one from Australia. He won top honors over two strong finalists: Jennifer Chesney, Associate Vice President of University Digital Strategy, University of Alberta, Canada; and Rachel Reuben, Associate Vice President of Marketing Communications, Ithaca College, New York.
"We are delighted to name a professional of Seth's caliber as the 2013 International Brand Master," said Bob Brock, President of Educational Marketing Group of Parker, Colo., sponsor of the competition. "His impact on SNHU has been phenomenal, and marketers everywhere are learning a lot from his success."
Seth Odell Background
As Director of Interactive Marketing at Southern New Hampshire University, Mr. Odell conceptualized, wrote copy and led art direction for the university's national advertising campaigns, as well as overseeing their social media and video production teams.
Prior to joining SNHU in 2011, Mr. Odell spent five years working in marketing at University of California, Los Angeles. His efforts with the university included establishing the institution's brand across a variety of social media channels, launching the institution's first online newsroom, and rebranding the university's School of Public Affairs.
In 2010, Mr. Odell founded Higher Ed Live, a weekly web show network which delivers interactive content focused on digital development in the higher education industry. Higher Ed Live merged with EDUniverse Media in 2012. For more information see: http://www.sethodell.com.
International Brand Master Award Background
The International Brand Master award was established in 2009 to bring recognition to the outstanding work of extraordinary educational brand marketing professionals from around the world. Since then, EMG has received nominations from Belgium, Scotland, Netherlands, Australia, England, Canada, and the United States.
This year, a blue-ribbon panel of volunteer international judges from the United States, England, Finland, and South Africa reviewed supporting materials provided by the nominees. Nominees were asked to provide responses to a number of questions related to their brand's strategy, tactics, and provide results as well as provide several letters of support from colleagues.
The judges narrowed the pool of 13 nominees to three distinguished finalists. Two from the United States (Seth Odell from Southern New Hampshire University, and Rachel Reuben from Ithaca College), and one from Canada (Jennifer Chesney from University of Alberta).
Members of the marketing profession around the world also had a chance to vote for their favorite finalist, and the public votes were combined with the judging panel scores to determine the winner. For more information see: http://emgonline.com/ibm-award/.
This year's judging panel included:

Danielle Beale: Marketing and digital communications professional, marketing chair for several organizations, and an edsocialmedia.com blogger from Nashoba Brooks School in the United States.
Hanne Haapoja: Branding professional with Aalto University, Finland, since its start in 2010 and previously a brand consultant for many different Finnish tech companies.
Tim Jones: Executive Creative Director at North Carolina State University in the United States.
Emma Leech: Highly decorated and internationally recognized branding professional with The University of Nottingham in England, and winner of the 2011 International Brand Master Award.
Mbali Mkhize: 11 years of decorated branding and an international higher education collaborator with Mangosuthu University of Technology in South Africa.
Catherine "Punky" Scruggs: brand marketing professional with 16 years experience, currently at George Mason University in the United States, and a finalist for the 2009 International Brand Master Award.
Travis Brock: Chair of the 2013 International Brand Master Award committee, and Director of Business Development and Social Media for Educational Marketing Group, Inc.
About EMG
EMG is a full-service, integrated brand development and marketing agency that provides custom-tailored research, brand development, creative, development, new media services, and media services for universities throughout North America. Headquartered in Parker, Colorado, the company was established in 1997 and has operated in the higher education arena exclusively for 17 years. Clients have included Washington State University, Virginia Tech, Cal Poly, Dalhousie University, University of Victoria, University of Colorado, University of Illinois, University of Michigan, University of Wyoming, and many others. More information can be found at http://www.emgonline.com.