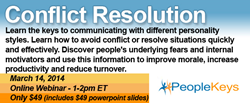 New research suggests that interpersonal conflict in the workplace is a much more serious problem than many managers may have realized.
Boardman, OH (PRWEB) February 23, 2014
New research suggests that interpersonal conflict in the workplace is a much more serious problem than many managers may have realized. According to a study of over 5,000 workers completed by Consulting Psychologists Press (CPP):

The average American worker spends 2.8 hours a week dealing with conflict in the office
"Chronic unresolved conflict" in the office is the deciding factor in 50% of cases where an employee chooses to leave their job, and is one of the primary causes cited in 90% of terminations
49% of workers surveyed agreed that differences in personality triggered most of the interpersonal conflicts in the office
42% of employees felt that their employers needed to do a better job of addressing personal conflict in the workplace
As a means of sharing this research with the public, PeopkeKeys, an Ohio-based firm with over 30 years of experience in behavioral analysis and personality testing, today announced that they will be offering a Conflict Resolution webinar, set to stream live at 1pm EST on Friday March 14th. PeopleKeys will offer the Conflict Resolution webinar with the goal of helping others understand the dynamics behind interpersonal relationships and to highlight the ways in which conflict is often rooted in a fundamental difference in personalities.
"When it comes to the office, two people rarely approach a task in the same way. Different personality types have different motivations, stressors, needs, and strategies," said PeopleKeys' senior coach and speaker John Schindell. "You have to ask yourself, 'What does the other person want? How will they go about it? And what can I do differently to adapt to this person's way of doing things?' In the end, we hope the Conflict Resolution webinar will show people that rather than being a source of stress, conflict can actually be an opportunity for growth, learning, and positive change."
The PeopleKeys Conflict Resolution webinar is being offered for $49 dollars, and will be taught by John Schindell as a part of his "DISC for the Real World" training series. The name of the series comes from PeopleKey's work with DISC theory, a behavioral analysis system that can be used to identify personality type, and to provide insight into common patterns of behavior. The $49 registration fee also gives participants complimentary access to an online PeopleKeys account loaded with two free DISC personality tests. These tests can be used to expand the applications of behavioral analysis and personality testing beyond conflict resolution and into other avenues of self-improvement such as interpersonal communication, team building, career advancement, and stress management. Additionally, participants will receive the training PowerPoint for reference or future use.
For more information about PeopleKeys, their personality testing and behavioral analysis tools, or to register for the March 14th Conflict Resolution webinar, visit peoplekeys.com.