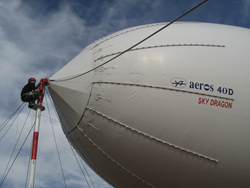 With the right equipment and integration its role is changing to a accommodate the need for greater event and infrastructure security without being obtrusive.
Los Angeles, CA (PRWEB) February 24, 2014
Aeroscraft Corporation (Aeros), a leading FAA-certified lighter-than-air (LTA) manufacturer and technology innovator, announced today that another 40D airship S/N A40D-22 is entering final stages of production before entering service in the spring of this year.
The 40D Sky Dragon is designed to accommodate a market demand for airships capable of multi-mission applications, ranging from advertising and broadcast camera work, to serving as a sensor platform while maintaining low operational costs and extended time on station. The Sky Dragon's digital flight management system and fly-by-wire technology delivers the next step in the evolution of the airship industry.
The 40D can also support numerous airborne ISR missions (intelligence-surveillance-reconnaissance), providing a quiet and stable aerial platform with long endurance and slow-loiter capabilities. In doing so, the 40D provides cost effective and flexible operations, and can also be an effective command platform for other aerial assets.
The '40D Sky Dragon' features:

stronger and lighter envelope fabrics that improve helium impermeability
a fly-by-wire flight control system providing exceptional maneuverability and control
reduced requirements for ground handling personnel
The airship provides operators with day/night observation with digital recording for post-mission analysis, digital moving map display integrated with flight data for precise geo-locating, and data links LOS (line-of-sight) to 150 Km. The 40D Sky Dragon is certified to operate in controlled airspace, including U.S., European and Asian regions.
The Sky Dragon is now being evaluated for a multi mission role that will include the traditional market branding and event broadcasting combined with security surveillance that utilizes state of the art recognition software that will assist the security forces at major public gatherings. The airship is particularly well suited for such a role due to general associations with aerial advertising and they are often less intrusive or disruptive to ground activities than helicopters, whose presence and noise tend to provoke reaction from those on the ground.
"In the past, the role of an airship has been very specific," explains Fred Edworthy, VP of Business Development at Aeros, "However, with the right equipment and integration its role is changing to a accommodate the need for greater event and infrastructure security without being obtrusive."
Specifications
Airship Length: 46.6 m
Max Flight Speed: 82 km/h
Flight Controls: 'Fly-by-Wire'
Flight Crew: Certified for Single
Pilot
Operating: VFR / IFR Certified
Number of Seats: 4 Pax / Pilot
For more information on airship and aerostat products, please contact Mr. Fred Edworthy at (323) 201-8304 or fred.edworthy(at)aeroscraft(dot)com, or Sr. program manager Mario Pantuso at mario.pantuso(at)aeroscraft(dot)com.
About Aeros: Founded 27 years ago in the U.S., the Aeroscraft Corporation (Aeros) has grown from a small aerostat production manufacturer to a leading FAA-certified airship producer and R&D firm for the aerospace industry. Aeros has achieved multiple FAA airship type certificates and operates with an FAA Production Certificate, while featuring a product line that includes advanced airships and tethered aerostats utilized in commercial and government applications throughout the world. Learn more at http://www.aeroscraft.com.
Aeros has recently announced a private offering for investors to support aeroscraft fleet development capital requirements. This can offer investors a rewarding opportunity to participate in the aeroscraft's development and growth. Execution of this plan is not without risk, and the offering can only be made to accredited investors at this time. For more info about aeros' private offering, please visit http://www.aeroscraft.com/investors.