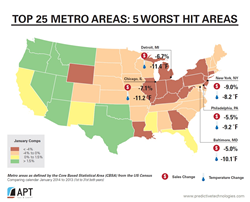 Washington, DC (PRWEB) February 24, 2014
As a supplement to recently announced analysis of retail sales across the United States for the month of January using data from the APT Index, Applied Predictive Technologies (APT) today released a graphic illustrating the five areas of the country that suffered the greatest decline in year over year January retail sales due to the month's harsh weather.
The APT Index shows a -1.6% decrease in nationwide retail sales during January 2014, compared to the same month last year. The decrease was driven by fewer transactions, as fewer people went shopping in the cold and snowy weather. Regionally, the top five metro areas where retail sales were hit the hardest in January were New York, NY (-9.0%), Chicago, IL (-7.1%), Detroit, MI (-6.7%), Philadelphia, PA (-5.5%) and Baltimore, MD (-5.0%). The APT Index also includes specific data on other areas around the country.
The original release can be viewed at: http://www.predictivetechnologies.com/newsroom/press-releases/2014/apt-index-january-retail-sales-comps-fall-16-nationwide-in-analysis-of-data-from-over-50,000-locations.aspx
About APT
APT is the world's largest purely cloud-based predictive analytics software company. APT's Test & Learn software is revolutionizing the way Global 2000 companies harness their Big Data to accurately measure the profit impact of pricing, marketing, merchandising, operations, and capital initiatives, tailoring investments in these areas to maximize ROI. APT's client portfolio includes Walmart, Staples, Lowe's, SunTrust, Hilton Hotels, and others. APT has offices in Washington, D.C., San Francisco, London, Taipei, and Tokyo. Visit http://www.predictivetechnologies.com to learn more.