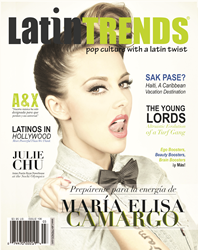 New York, NY (PRWEB) February 23, 2014
Maria Elisa Carmago stars in Telemundo's brand new telenovela, "En Otra Piel." While on set filming, Carmago takes a break to talk to LatinTRENDS about leaving home at the tender age of 17 in pursuit of her acting dreams, maintaining a healthy work/life balance and nurturing the strong relationship she has with her fans.
The March issue also offers interviews with urban music producers, A&X; VH1's "Single Ladies" star, Denise Vasi; and "Need for Speed" movie star, Ramon Rodriguez. This issue is jam packed with entertainment news, places to go and people to see!
In more hard-hitting coverage, LatinTRENDS speaks with Jose "Cha Cha" Jimenez of the late 1960s organization, The Young Lords. Learn about the party's history and what Jimenez would like to see for the future of the organization.
Download the LatinTRENDS app on all iPhones, iPads and Androids via Pocketmags.com!
For more information, please contact Maria Luna at (212) 852-6164 or via email at mluna(a)latintrends.com.