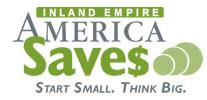 Reducing debt and building wealth will pay big dividends in the end. America Saves Week is the perfect time to get started.
Riverside, CA (PRWEB) February 24, 2014
Springboard Nonprofit Consumer Credit Management, Inc. ("Springboard") is encouraging consumers to jump start their savings program by participating in America Saves Week, the campaign that occurs annually to encourage better savings habits among all Americans. This year, America Saves Week is recognized February 24 - March 1. As part of the broader America Saves Week initiative, Springboard launched Inland Empire Saves, a regional campaign to encourage individuals and families across Southern California's Inland Empire – Riverside and San Bernardino counties – to become better savers, reduce debt and build wealth.
"Research finds that only half of Americans report having good savings habits," said Melinda Opperman, Springboard's senior vice president and campaign coordinator for Inland Empire Saves. "The good news is that it's never too late to begin. Reducing debt and building wealth will pay big dividends in the end. America Saves Week is the perfect time to get started," said Opperman.
Joining Springboard in supporting this initiative is Riverside Mayor Rusty Bailey, who recorded a special video message for Inland Empire residents encouraging individuals and families to get involved with the annual America Saves campaign.
Also partnering with Springboard during America Saves Week is JP Morgan Chase, the Empowerment Center of Temecula, Money Management International, and the Housing Opportunities Collaborative of the Inland Empire.
There is no better time for consumers to reflect on their savings strategy than now. Last year, the average American spent about $2,000 on unexpected expenditures and emergencies. And while nobody can control when these situations happen, everybody can control their savings plan. Here are some tips to help consumers save more:
Direct Deposit Paycheck – Ask for direct deposit at work. Directly depositing a paycheck into a savings account will make it harder to spend. Being more conscious about transferring money from savings to checking in order to make purchases will help consumers be more aware of how much money they are actually spending.
Track Goals - Make it a goal to review credit card and checking account statements once a month. This will help consumers see where they are spending money that could otherwise go towards savings.
The 24 Hour Rule – Do not buy anything expensive on impulse. Instead, wait at least a day to think about it. Also, comparison shopping is important to ensure that one is getting value for their hard earned dollars.
Develop Savings Discipline – For every indulgence or nonessential purchase, match the purchase by putting an equal amount into a savings account. Not being able to afford to move money into savings is an indication that the intended purchase is not needed.
Start With Short Term – Instead of focusing on yearly or monthly amounts to save, start with a weekly or daily goal. A short term savings goal keeps it relevant. Even $10 a week adds up.
Consumers can join Inland Empire Saves by visiting http://www.inlandempiresaves.org. The website allows consumers to set financial goals, track spending and take control of their financial future.
"We're excited to champion this important initiative that promotes good savings behavior and a chance for individuals to assess their own saving status," said Opperman.
About Springboard Nonprofit Consumer Credit Management, Inc.
SPRINGBOARD® Nonprofit Consumer Credit Management is a 501(c)(3) nonprofit personal financial education and counseling organization founded in 1974 with the mission of improving the financial well-being of individuals and families. Springboard is a HUD-approved housing counseling agency and a member of the National Foundation for Credit Counseling and Association of Independent Consumer Credit Counseling Agencies. Springboard offers personal financial education and assistance in credit counseling, housing counseling, debt and money management, pre-bankruptcy counseling and debtor education through educational programs and confidential coaching. Springboard is accredited by the Council on Accreditation, signifying the highest standards for agency governance, fiscal integrity, counselor certification and service delivery policies. Counseling is available by telephone nationwide or in-person at office locations in California, Arizona, Nevada, New Mexico, Texas, Massachusetts, South Carolina, Florida and Maryland. For more information on Springboard, please call 800-449-9818 or visit their web site at http://www.Springboard.org.