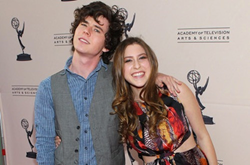 "Maybe I was starstruck on an unconscious level with Whoopi Goldberg because I threw up." - Eden Sher on 'The Middle's Guest Stars
(PRWEB) February 23, 2014
In a recent conference call, TVRage.com's Senior Writer Kelly Schremph was lucky enough to talk with 'The Middle's Charlie McDermott and Eden Sher. The two talented young actors chatted about their hit comedy, getting syndicated, some of their favorite guest stars, and what they hope to see from their characters in the future.
Here's an excerpt from the conference call:
"But the hilarity doesn't stop with just the family. Several A-list guest stars have stopped by the show to put in their comical two cents. And this brother-sister duo have their personal favorites that left them starstruck.
McDermott told TVRage, "For me it was Norm MacDonald. I was a huge fan of Norm MacDonald. I was also a huge fan of Chris Kattan, both of them from 'SNL.' But I worked with Chris Kattan during the pilot, so I got my starstruck-edness out of the way pretty early. But yeah, when Norm MacDonald came on, I was pretty starstruck."
Meanwhile, Sher's excitement seemed to extend beyond an emotional reaction. "Maybe I was starstruck on an unconscious level with Whoopi Goldberg because I threw up. It was like the actual physical: 'Oh my god, my body is struck, doesn't know what to do, I'm just going to release everything in my body.'"
As for what they hope to see from their characters in the future, McDermott admits he has a few ideas. "I hope Axl gets drafted into the army or something. I can sense the war. That'd be a fun little side project: Axl in a trench, calling home," he teases. "In reality though, I'm looking forward to him going to college again next year. The college stuff is fun."
Then there's Sher, who just wants one simply thing for poor Sue: no more braces. Though she's not entirely sure how probable that wish is to becoming true, "I actually have no idea if that's going to be a reality of not."
'The Middle' returns to ABC on Wednesday, Feb. 26 at 8/7c.