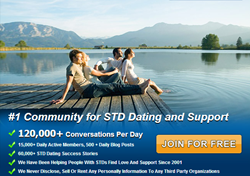 Los Angeles California (PRWEB) February 23, 2014
PositiveSingles.com, the number one community for STD dating and support, randomly asked 10,000 of its members from the United States on Feb.20 to learn how much STD cost infected people for treatment per year.
According to the results, the average personal cost is around $8,500 - $9,500 per year which is higher than the results published by CDC on the 15th February 2013. CDC has reported that $16 Billion a year is spent to treat sex diseases with the average annually per person being $8,122.
77% of the people who took part in the survey with PositiveSingles.com were aged between 30 to 65 with 23% being between the ages of 20 to 30. The results have shown that with the new health care policy the majority of young people who do not have good insurance are going to struggle with the higher cost of treatment.
STD's do not just affect young adults, it has been reported in the news that there is a serious problem with the over 65s contracting STD's. If this age group does not have the correct medical cover they could find it hard to afford the rising cost of medical care which could result in the STD being transmitted to more elderly people who have an active sex life.
According to Fox News, STD's among our senior citizens is on the rise with some health experts calling on better sexual education for the older generation. Between 2007 to 2007 Chlamydia infections in men and women were over the age of 65 rose by 31 percent, during this time syphilis infections within the same age group rose 52 percent, showing there is a serious information issue on safe sex for senior citizens.
A study which was published in the Annals of Internal Medicine also found that older men were using Viagra to stay sexual active and were six times less likely to follow the safe sex rules of using a condom compared with men in their 20s, showing there is a serious lack of sex education for the older generation still looking for love and relationships.
It is believed the rise in the number of STDs in senior citizens is due to people now living longer and senior citizens are becoming more sexual active as well as they were born before the safe sex message came out.
It is not just senior citizens that health experts have called on for more education, with the youth of day between the ages of 15 and 24 having the highest rates of Chlamydia and Gonorrhea, health experts believe that more education needs to be brought into schools on safe sex especially when a large number of people who have STDs do not know they have it and therefore it goes untreated and passes onto the next person they have sex with.
About PositiveSingles.com
As the largest and most trusted online dating site for people living with Herpes, HPV, HIV / AIDS, Hepatitis, Chlamydia, Gonorrhea, Syphilis and other STDs, PositiveSingles.com is completely anonymous and cares about members' privacy more than other sites. You are not required to submit any information that you are not comfortable with on this site. Whatever you are looking for Herpes dating, HPV dating, HIV AIDS dating, or any other STD dating, PositiveSingles.com is the best place.