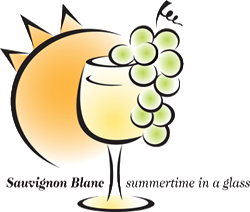 Most Sauv Blancs are approachable, great with food, and are 'easy-drinkers.' Perhaps, the best part ...quality at a lower price point."
Cloverdale, California (PRWEB) February 26, 2014
With Spring just around the corner (has it already arrived in California?) thoughts shift to love, outdoors and picnics. What better wine to compliment all of these thoughts than a chilled crisp glass of Sauvignon Blanc.
Yes, many people think of Chardonnay and Rosé and, certainly, they have their place in our arsenal of warm weather wine choices. Nothing, however, offers the variety of palate pleasures, tropical fruit, crisp citrus, acid, melon or grassy herbaceous flavors than Sauv Blanc. Especially at the typically pleasing price profile the varietal achieves.
What makes a winning Sauvignon Blanc? Summertime in a Glass (SIAG) has interviewed Sauvignon Blanc winemakers, wine educators, wine buyers as well as small and very large retail wine shop owners/operators, seeking their perspectives on style, price point, personal preferences, flavor profiles, varietal direction, regional preferences, age ability, and more. SIAG the following information and insights will both enlighten and inform. It is intended to offer any wine consumer helpful information on how to shop for and select the perfect Sauv Blanc for your cellar or to enjoy tonight.
To quote Bryan Dias, Executive Director, Summertime In A Glass, "There is a big world of Sauvignon Blanc out there – many regions and styles. However, it may not be as 'daunting' as some grapes to explore and discover. Most Sauv Blanc wines are approachable, go great with food, and are 'easy-drinkers.' Perhaps, the best part is you get all this from a well-made bottle at a much lower price point than other varietals at a comparable quality level."
On the wine shop buyers side, SIAG spoke with renowned wine judge, wine researcher and Cellar Master for BEVMO!, Wilfred Wong. Wong immediately gave credit to the late Robert Mondavi for rescuing Sauvignon Blanc as a marketable wine varietal in the United States. Using Wong's words, Mondavi 'tamed' the typical California style by reducing the pungent grassy, herbaceous and vegetive qualities by using some oak and Semillón grapes, thereby, bringing out the more refreshing, crisp, citrus flavors of the grape. Mondavi branded it Fumé Blanc and, as they say, the rest is history.
Wilfred Wong's favorite California growing regions are Lake County ("Best in California") and Dry Creek Valley in Sonoma County. Wong likes the melon flavors that these growers are able to achieve and the balance and freshness that the winemakers who use these grapes can bring out. In terms of vintners, Wong spoke well of Dry Creek Vineyard, Duckhorn and Cakebread Cellars. In terms of age ability, Wong was pretty clear. Drink the vintage soon after bottling but certainly before the next vintage is bottled. At the reasonable price point for most Sauv Blanc (typically less than $20), there is no point in aging.
In the smaller specialty wine shop category, SIAG spoke to Leora Pearl Madden, owner, Pearly Wine Co. in New Orleans, LA. New Orleans is a great market for white wines year-round because of the food styles and the weather. Madden said that she "likes small production wines for (her) store. I seek wines with better structure and often find this with smaller producers." In respect to her style preferences, "I prefer Sauvignon Blanc that is a bit 'softer,'" where they don't have a lot of Semillón. It's a more 'feminine' style where I find that Sauvignon Blanc with a lot of Semillón blended in are a bit too 'muscular.'" At Pearly Wine Co. most Sauv Blanc sells at the $15 and lower price point. Anything above that is usually being purchased as a gift or to impress a girlfriend, according to Madden. Madden agrees with Wong, that a Sauvignon Blanc should be consumed young and that one should be cautious about letting one set on the shelf for more than a few years at most.
As a self-described fan of Sauvignon Blanc, Master Sommelier and Certified Wine Educator, "Planet Grape - aka grape goddess," Catherine Fallis, refers to Sauvignon Blanc as "one of her favorite grapes and her first choice for white wine". Fallis has her own thoughts of how a good Sauvignon Blanc should taste. The descriptors "refreshing, zesty, refreshes the palate" came rolling off her tongue during our interview.
With Fallis' global experience it wasn't surprising that she would mention Chateau Mouton Rothschild's Aile d'Argent as a world-class benchmark. American producers, particularly with grapes grown in California's Lake County, Dry Creek Valley, Santa Barbara, Monterey and Mendocino Counties can approach that bench mark while keeping the prices accessible.
Like Wong, Fallis likes the "rich, round flavors with an undercurrent of acidity and grassiness" that comes with blending in some Semillón. American consumers seem to prefer the tropical fruit and melon flavors that are becoming more prominent and she advises to "embrace the screw cap". Screw caps are de rigueur for New Zealand and, more and more, American winemakers are using this near foolproof closure for these wines. They are, after all, typically consumed the day they are purchased. Again, as Fallis says, "drink these soon after purchase and avoid older vintages. Why miss the fresh flavors that a new Sauv Blanc can offer?" Continuing her international perspective, Ms. Fallis noted that "Chilean Sauv Blanc is really moving up with a French style, grassy and fresh, and available for under $10 retail in some outlets.
These professionals all agree that a very good Sauvignon Blanc can be found for $10-25. They also advise to beware of clearance sales with vintages that are more than 1 - 2 years old. It's probable that the retailer is making room for the new vintages and it's possible these are past their prime.
So remember, as thoughts turn to spring, find a young, crisp and tropical fruit flavored Sauv Blanc to make your picnic or front porch rendezvous a refreshing success. Keep an eye out for more fun and informative releases from Summertime In A Glass!