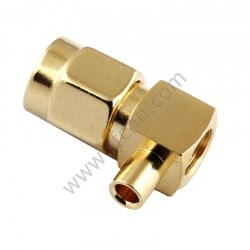 (PRWEB) February 22, 2014
Recently, RFcnn.com, the distinguished connector manufacturer and retailer, has updated its website with an SMA coax connector promotion. Along with this, the company has stated that all orders placed before March 10 can get a discounted shipping fee.
The Company's Statement
The CEO of the company says that all its brand new SMA coax connectors are now offered at low rates, up to 32% off. "We are very proud to start our spring special offer. All new and old customers can access the big savings before the deadline. At our online shop, all visitors are treated as VIPs. If you are interested in our inexpensive connectors, please visit our online shop as soon as possible. You know, the stock is limited," he says.
As a matter of fact, RFcnn.com specializes in almost all kinds of high quality connectors. The purpose of the company is to facilitate worldwide distributors by providing thousands of practical devices at competitive prices.
The Hottest Designs
The most popular item in the company's current promotion is called SMA Male Crimp Right Angle for RG405 RF Connector. The followings are some details about it:
Part No : SMA121RA-405
Description: SMA Male Crimp Right Angle for RG405 RF Connector
Connector Series: SMA
Connector Type: male
Contact Termination: Solder
Shield Termination: Crimp
Impedance: 50 Ohm
Mounting Type: Cable free hanging
Cable Group: RG405
Fastening Type: Threaded
Frequency – Max: DC-18GHz
Body Material: Brass
Body Finish : Gold
Center Contact Material: Brass
Center Contact Finish: Gold
Dielectric Material: Polytetrafluorethylene (PTFE)
Voltage Rating: 375V
Working Temperature: -65°C ~ 165°C
About RFcnn.com
RFcnn.com is an online shop of high end devices. It is a China based company that aims to provide customers with high quality products at the lowest possible prices. Customers can try the company's products through sample orders with a long-term contract. Most customers come back soon after receiving their first deals.
More details about the company's useful products can be found at http://www.rfcnn.com/SMA-Male-Crimp-Right-Angle-for-RG405-RF-Connector-129.html.