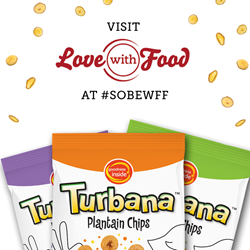 "We're excited to partner with Love With Food because its values align with those of our 'Growing Smiles, Sharing Goodness' movement," comments Marion Tabard, Turbana's Marketing Director.
Coral Gables, Florida (PRWEB) February 24, 2014
Famous chefs, libations, and delicious food will be on display at the South Beach Wine and Food Festival (SoBe2014); but only one recipe will surely create a buzz among event attendees. During SoBe2014, Turbana and Love with Food will come together to create a recipe for success, including ingredients such as love, food, and a whole lot of goodness.
Today Turbana announced it will partner with Love With Food at SoBe2014 as a part of its "Growing Smiles, Sharing Goodness" movement, which encourages people to eat smart, stay active and get involved in their communities.
"We're excited to partner with Love With Food because its values align with those of our 'Growing Smiles, Sharing Goodness' movement," comments Marion Tabard, Turbana's Marketing Director. "Making choices, even little ones, that are healthy and smart motivates others to do the same. Before you know it, everyone is sharing goodness. We look forward to working with Love With Food in the future."
Love With Food distributes healthy snacks monthly to subscribers throughout the United States; and for every box distributed, one meal is given to a child in need. To date, over 150,000 boxes have been donated, providing nourishment and goodness to the people who need it most. Turbana aims to support the program by donating 1,500 bags of its Chili Lime and Sweet flavored Plantain Chips to Food With Love to distribute at SoBe2014.
"Turbana is a great alternative for potato chips and we love that they are gluten free with no additives," says Aihui Ong, Love With Food's CEO. "By producing a high quality product like Turbana Plantain Chips, it makes it easier for us to find healthier options for our subscribers."
Throughout the weekend of February 22rd to the 23rd of 2014, SoBe2014 is expected to attract over 60,000 attendees and some of the world's most renowned wine and spirits producers, chefs and culinary artists. Turbana sees this as the perfect opportunity to introduce its healthy chip alternative, along with its message of Growing Smiles, Sharing Goodness to SoBe2014's major culinary influencers, so they may take it home and share the goodness with their friends, family and colleagues.
SoBe2014 attendees will now also be able to take home goodness by swinging by any South Florida Winn-Dixie or Whole Foods Market to pick up as many bags of Turbana Plantain Chips as they would like.
Love With Food promotes healthy choices and shares goodness with children in need, making the partnership with Turbana a perfect fit. Together, the two companies have cooked something up that's bound to fill not just the stomachs, but also the hearts of SoBe2014 attendees.
###
Established in 1970, Turbana Corporation is a leading importer of tropical produce in North America, including bananas, plantains, pineapples, and ethnic tropicals. Turbana is proud to have been the first organization to bring Fair Trade Certified bananas to North America.
A pioneer in sustainability and social consciousness, Turbana has developed the farming communities in the banana and plantain-growing regions over the past 40 years through its social foundation, Fundauniban. Turbana gives a portion of every purchase to Fundauniban, contributing to the $230 Million the foundation has invested in social and economic projects for education, housing, infrastructure, and environmental protection since 1987. Additionally, Turbana invests in its communities across the US, helping them build sustainable and healthy practices.
Turbana is owned by Uniban, the world's largest grower-owned banana company and the world's largest producer of Fair Trade Certified bananas and plantains, and Fyffes, one of the largest produce importers and distributors in Europe.