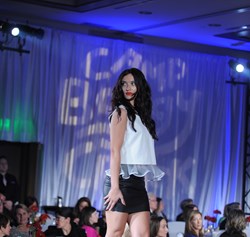 This show could have been in New York during Fashion Week!
Eustis, FL (PRWEB) February 22, 2014
The Heart of Fashion, a luncheon and fashion show benefiting Camp Boggy Creek, was held at The Alfond Inn on February 11, 2014. Nemours Children's Hospital was the presenting sponsor for this inaugural event.
Guests took part in a fabulous auction, followed by a delightful lunch and an outstanding runway fashion show featuring styles of Continuum, a chic boutique located in Lake Mary, Florida.
LMG, a national provider of video, audio, and lighting support, played a large part in the success of this event. LMG stunned the audience with breathtaking visual effects that extenuated the fabulous styles provided by Continuum.
"This show could have been in New York during Fashion Week!" said Diane Holm, Camp Boggy Creek Board Member and Heart of Fashion Event Committee Chair. "The turnout was astonishing and we are so thankful to our sponsors and guests who made the event so successful. The Heart of Fashion allowed us to share the magic of Camp Boggy Creek—a haven for children with serious illnesses and their families."
The event committee was comprised of Diane Holm, Dana Baumgarten, June Clark, Wendy Durden, Tammy Giaimo, Sarah Hsiao, Dr. Ann McGee, Sigrid Tiedtke and Megan Warlow.
"The event sold out early in the year, largely due to our generous event sponsors. We established a fundraising goal of $100,000 and were amazed at the outpouring of support," shared June Clark, President and CEO for Camp Boggy Creek. The sponsors included: Nemours Children's Hospital, Diane & Eric Holm, Bright House Networks, Golden Corral, LMG, The Martin Andersen-Gracia Andersen Foundation, Continuum, Wendy & Hugh Durden, Florida Charities Foundation, Radiology Specialists Volunteer Program, Arnold Palmer Hospital for Children, Jane Diange, Roseann Duran, Hancock Bank, Hunton Brady Architects, Orlando Health, Simpkins Family Foundation and Tower Realty Partners.
# # #
About Camp Boggy Creek
Founded in 1996, Camp Boggy Creek is a year-round medical camp for children with serious illnesses. Co-founded by actor/philanthropist Paul Newman and General H. Norman Schwarzkopf, the camp offers week-long summer sessions and family retreat weekends at no charge to the children or families. Located in Eustis, Florida, the 232-acre nonprofit serves children ages 7–16 that have been diagnosed with chronic or life-threatening conditions. The camp is entirely funded by generous donations from individuals, corporations, foundations and healthcare partners. Camp Boggy Creek is a proud member of SeriousFun Children's Network. Learn more by visiting campboggycreek.org.