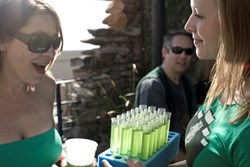 Washington, DC (PRWEB) February 22, 2014
Starting March 1, be prepared to celebrate all things Irish at Fado in Chinatown. Every aspect of the St. Patrick's Day festivities, which last all month-long, are focused on providing an over-the-top yet authentic Irish experience — European sports, including English Premier League soccer, special whiskey dinner, live music, Pub Quiz, fundraisers, wearing green, eating traditional Irish food, connecting with community through charity, and, of course, drinking Guinness and fantastic Irish whiskey. "Party like a Paddy" never sounded more right!
Fado, the best St. Patrick's Day party in the Washington, DC. is a St. Patrick's Day Institution and the staff and management at the pub invite you to "commit yourself."
Here's what to expect during the biggest St Patrick's Day Bash in Washington, DC.
Perfect Pint Contest, Sunday, March 2, 7 p.m. - It's a neighborhood "pour-off" and serious bragging rights are at stake! Open to the public.
"Encoure - One More Song" Scythian with special guest Danny Burn & the Defectors, every Thursday in March - Scythian, nationally touring band, marks 10 years with four shows at Fado Irish Pub in March. Starting March 6, the boys are back and we are celebrating a decade of getting crowds on their feet. Scythian may be Irish but they are truly local favorites! ($10 cover charge)
Guinness Glass Graving, Thursday, March 7 from 4 p.m. to 7 p.m. - Guinness adorers are invited to take home their very own etched Gravity Glass free!
St. Baldricks Charity Event, Sunday, March 9 - Annual head-shaving event where the community raises money and awareness to help fight children's cancer. Over 23 shavees already registered to help beat the $20,000 goal. It's great craic for a great cause. Party starts at 2 p.m., go here to learn more or to donate.
Doors open early on March 9 for English Premier League and 6 Nations Rugby, England vs. Wales 11 a.m. - Fadó to host a Post-8k-Brunch. Runners with their Bibs get 10% off their check. Full brunch menu available.
Super Paddy's Day Pub Quiz, Tuesday, March 11, 8 p.m. - Quizzers should come prepared as its an all-Irish Quiz night. Drink specials and great prizes, including $500 for 1st place, $250 for 2nd and $100 for 3rd. Free to play and new teams always welcome. This super pub quiz is part of a three-week-long tournament. You can join at any time but your chances to claim the big prize go up for points claimed each previous week starting Tuesday, February 25.
Rockin' the Green, Friday, March 14 - Wear your finest Caps Paddy's Day gear. Special: bring your ticket to enter the drawing for a chance to win a VIP package for St. Patrick's Day, which includes four VIP passes and $200 gift card.
"St. Practice Day" on Super Sports Saturday - Doors open inside at 7.30 a.m. for European sports, including 6 Nations Rugby and English Premier League soccer. Full brunch available until 3 p.m. Full menu, including traditional Irish favorites all day. Live Music with Jeff From Accounting starts at 10 p.m. ($10 cover at 8 a.m. 21+ over all day.)
Parade Day, Sunday, March 16 - Doors open early with European sports featuring Liverpool v Manchester United at 9.30 a.m. Live music with Danny burns noon to 4 p.m. No cover.
St. Patrick's Day, Monday, March 17 - Doors open at 8 a.m. Live Music with 40 Thieves at 1 p.m. and Lloyd Dobbler Effect 8 p.m. ($10 Cover at 1 p.m. 21+ over only.)
About Fadó Irish Pub
Fadó (pronounced fuh-doe) Irish Pub was the first Irish pub to be designed and constructed in Ireland and shipped and installed in Seattle in 2000.Fadó is distinguished by its genuine Irish hospitality, quality of its pints and craic (pronounced 'crack', a uniquely Irish form of fun). Fadó has been voted 'Best Of' by a number of local and national publications, including "Top 10 Soccer bars in the US", by GQ Magazine. Fadó is an official US Soccer bar. Get more information by visiting the pub's website page, Facebook page or by following @fadoDC on Twitter and following the hashtag #stpatricksday2014.