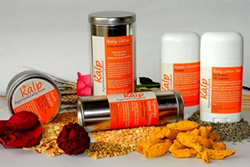 Ottawa, Canada (PRWEB) February 24, 2014
Leading holistic spa and wellness clinic, TEAL, has recently launched KALP, an all-natural and vegan skin and personal care line for individuals of all skin types.
"As a leading holistic spa and wellness clinic, we understand the importance of proper skin care products that will tend to all skin types," says Seema Kudesia, TEAL's Clinical Director. "We are proud to introduce a chemical-free product line that uses the purest form of ingredients to portray the maximum benefits of its purpose."
Currently there are seven products in the KALP line including:
Ubtan: An herbal alternative to soap that is vitalizing, nourishing and detoxifying. The lemongrass aroma and peppermint undertones help improve circulation and boosts cell re-growth.
Therapeutic Natural Soap: This is natural, vegan and gluten-free. Enriched with Shea butter, olive oil and essential ingredients, this is an ideal treatment for anyone with skin conditions such as acne, eczema, psoriasis, rosacea, or those who are pregnant or experiencing menopause.
Sweda Deodorant: This product prevents odor very effectively with great blend of cornstarch, plant extract and coconut oil that is gentle on even the most sensitive skin. This Deodorant soothes out and gives relief for hot flushes during of menopause.
Body Lotion: This emollient solid lotion bar is equal parts calming hydrating for those that suffer from dry, itchy skin.
Bee Wax Lip Balm: Made of pure beeswax, this is 100 percent vegetarian and made with vitamin E to protect lips from harsh, dry weather.
Aura Candle: A wooden wick with a non-GMO vegetable Oil Base, this is a fragrance that will energize and invigorate.
Synergic Acne Treatment: For individuals that suffer from oily acne prone skin, this oil balancing powder is an overnight treatment that gentle recovers acne residual while clarifying and revitalizing skin.
Skin care customers can learn more about the new products at http://kalp.ca/index.html.
About TEAL:
Established in 1998, TEAL is a Canada based holistic spa and wellness clinic. TEAL offers a wide variety of services, each one personalized to a customer's specific needs. Specializing in everything from herbal medicine to laser treatments, the wellness clinic offers health and beauty solutions for anyone who walks through their doors. TEAL strives to promote self-confidence and inner beauty for all of their customers. For more information, please go to tealwellness.com or visit 570 Montreal Road, Ottawa ON or call (613) 745-3418.