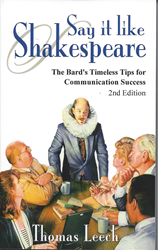 "No man is lord of anything 'til he communicate his parts to others." per the Bard
(PRWEB) March 11, 2014
The new edition of Tom Leech's book, "Say It like Shakespeare: the Bard's Timeless Tips for Communication Success" provides new insights on how to and how not to communicate with people while still using Shakespeare's sage wisdom.
The words of Shakespeare, despite being over four centuries old, still ring true in today's society. Good communication is key to creating and maintaining good relationships of all types. The lessons from his most memorable communicators, such as Henry V stirring his Band of Brothers, Marc Antony showing how to hold his audience of "Friends and Romans," and Caesar demonstrating, fatally in his case, why heeding upward communication is important, are some of the most important for people today to learn, though most of Shakespeare's characters have a lesson to share about how to communicate.
To succeed in business, communicating with colleagues, upper management, customers (real or potential), the general public and others along the way is a key factor in landing a job and doing it well. That may involve multiple modes of communication: interpersonal, written, presentations, proposals, meetings (in person or as a conference call), and more. Heeding the Bard's amazingly relevant insights can sharpen those essential skills.
The timeless examples are mirrored by pithy examples from current day executives, politicians, and personalities sharply demonstrate ways to tune - or mess - up communication.
This book is a boon to anyone, as its lessons can be applied to personal relationships as well as business communication.
Book Specifics: Say it like Shakespeare: the Bard's Timeless Tips for Communication Success by Thomas Leech, ISBN-10: 0981769314. Published December 2013, by Presentations Press. $14.95, soft cover, 332 pages, Kindle e-book $7.95. Full info at http://www.presentationspress.com. Original title: Say it like Shakespeare: How to Give a Speech like Hamlet, Persuade like Henry V, and Other Secrets from the World's Greatest Communicator, McGraw-Hill (2001).
About the Author:
Thomas Leech is a nationally known presentations consultant, executive speech coach and professional speaker. He was one of the nation's first corporate ombudsmen and has taught communications and presentations at several universities. His clients include many Fortune 500 companies and public agencies. He is also the author of "How to Prepare, Stage, and Deliver Winning Presentations," 3rd Edition, 2004 (AMACOM), and other non-business books (nature, adventure travel). A long-time member of the San Diego Press Club, his articles have appeared in many publications nationwide.
Contact: Author Tom Leech, 858-650-0810, winpres(at)aol(dot)com and TomLeech68(at)gmail(dot)com. On request will upload a .jpeg book cover photo for your use. For review copies, call or email request. He is available for interviews about the book, as an article author, and as a resource on public speaking, presentations and business communication.