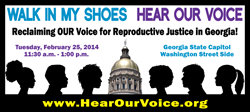 Atlanta, Geogia (PRWEB) February 22, 2014
On Tuesday, February 25 at 11:30am, over 35 organizations and hundreds of their members will rally together at the State Capitol. The event, "Walk in My Shoes, Hear Our Voice," is in protest of the silencing of women's voices.
"Too many politicians openly support a denial of basic health care and the reversal of essential reproductive rights. While increasing numbers of anti-woman policies are put in place, women are dying. Legislators have consistently failed to listen to or allow the testimony of women who relate the real impact of these policies on their lives and health," says Janelle Yamarick, Advocacy Director of the Feminist Women's Health Center.
The nation's rate of maternal mortality has been steadily rising, and nowhere is that increase more evident than in Georgia. Public health officials reported in 2013 that Georgia has the highest rate of pregnancy-associated deaths among all 50 states.
Jaime Chandra, FWHC's Marketing & Communications Manager says, "We have reached the tipping point and we're here to say: we won't go back! The continuous legislation attempting to control women's health decisions, both directly and indirectly, are dangerous. We are ready for our voice to be heard; it is time to move forward and commit to protecting women's lives."
Below, Feminist Women's Health Center's Advocacy Network provides potential impact of proposed legislation:
SB 377 & HB 1023 use broadly-scoped definitions that significantly expand the legal ability to refuse and discriminate based on religious objection. These bills define 'burden' as any application of law or policy and 'person' includes corporations and other entities. The impact of these bills would allow pharmacists to refuse to fill prescriptions. These bills could also impact a woman's ability to acquire prescriptions or referrals from her doctor, receive emergency reproductive health care, and may even impact employment based on marital status, martial history, contraception use, or pregnancy status. (http://www.legis.ga.gov/legislation/en-US/Display/20132014/SB/377 & http://www.legis.ga.gov/legislation/en-US/Display/20132014/HB/1023)
SB 98 would prohibit Georgians from purchasing health insurance through the ACA exchange that provides comprehensive reproductive health care benefits, including abortion. State employees would also be denied this coverage, now by law. This bill changes the insurance coverage that Georgians have right now; most insurance plans cover abortion, but this bill removes those benefits with dangerously narrow medical emergency exceptions. (http://www.legis.ga.gov/legislation/en-US/Display/20132014/SB/98)
SB 334 & HB 707, "The Georgia Health Care Freedom and ACA Noncompliance Act," would do exactly as the title suggests. It aims to prohibit any local or state government entity, including Universities, from engaging in activity that aids in the implementation of or education regarding the Patient Protection and Affordable Care Act. This bill would halt already funded programs that help uninsured Georgians find coverage. Further, it would create barriers to the preventative services guaranteed by the ACA. Since many pregnant women go into labor with chronic health problems, preventative healthcare is crucial to reducing maternal mortality. (http://www.legis.ga.gov/legislation/en-US/Display/20132014/SB/334 & http://www.legis.ga.gov/legislation/en-US/Display/20132014/HB/707)
HB 990 would require Legislative Approval to expand Medicaid, prohibiting the State Governor from doing so without legislative action. Medicaid has already been proven to lower infant mortality and improved access to preventative care would ensure women's health throughout all life stages. This bill would create numerous hurdles for all Georgians to obtain insurance coverage and reduce access to life-saving healthcare. (http://www.legis.ga.gov/legislation/en-US/Display/20132014/HB/990)
The organizations listed below have come together to support "Walk in My Shoes, Hear Our Voice." The organizing principle is as follows: We are here to reclaim our voice. We reject bills that do not comply and support bills that do comply with the following principles* for all Georgians:

to determine when and whether to have children,
to have a healthy pregnancy and birth;
to become a parent and parent with dignity, and
to have safe and healthy relationships and families.
Co-sponsoring organizations as of 2/22/14: ACLU of Georgia; American Friends Service Committee; Atlanta Feminist Women's Health Center; Atlanta Women's Center; Clarkston Community Center; Emory Reproductive Health Association; Georgia Equality; Georgia NOW; Georgia Reproductive Justice Access Network; Georgia Rural Urban Summit; Georgia WAND; Georgia Women for a Change; Georgia Working Group; Health Organization for Latin America; International Action Center; League of Women Voters of Dekalb County, Georgia; League of Women Voters of Georgia; Men Stopping Violence; Moral Monday GA; NAACP Georgia: W.I.N. (Women in NAACP Working Group); National Association of Social Workers – Georgia Chapter; National Council of Jewish Women – Atlanta Section; ONE BILLION RISING; Planned Parenthood Southeast Advocates; Raising Women's Voices; Raksha; Refugee Women's Network; Secular Woman; SisterSong; SPARK Reproductive Justice NOW!; Unitarian Universalist Congregation of Atlanta Reproductive Justice Advocacy Group; WonderRoot; Women of W.O.R.T.H; Young Women's Task Force.
Media invited to attend. There will be a press event, designated spokespeople from each organization, and individuals who will be available for comment.
Walk in My Shoes, Hear Our Voice
Washington Street Side of the Georgia State Capitol
Tuesday, February 25, 2014, 11:30am – 1pm
http://www.HearOurVoice.org
Facebook Event: https://www.facebook.com/events/567288220027619/
Original Song: "Won't Go Back" https://soundcloud.com/feminist-center-atlanta/
Original Music Video: https://vimeo.com/feministcenter/wontgoback