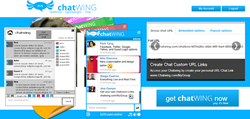 Boston, MA (PRWEB) February 24, 2014
Chatwing chat software has been branded as sophisticated but an easy to use tool with its newest social sharing features including Instagram and Twitter. A new user can get one on Chatwing's main page by registering an account and with one click begin social sharing. After creating the chatbox, the user has the option to customize it or skip the modification process and start sharing immediately.
Chatwing's customization is broad and it has been regarded as one of its strong points. Through these modification options, the user will be able to create a chatbox that will suit his/her tastes. He can also setup the functions that can increase the chatting capabilities of the chatbox. Some of these are the Admin controls and its Social Integration options.
The chat room software admin controls will give the user the ability to ban chatters, delete messages and apply word filters. These controls can also be given to other people that the user will assign as Moderators. The Social Integration options allow the users and the chatters to use their social media accounts both as a method of logging in and as a method of social sharing. These features will bring forth an even better form of social connectivity between chatters.
Chatwing has been continuing on improving the website chat software as of now. Currently, with the Android App going live, more people will be using the tool. For that reason, they will further give their best efforts to ensure that their users will only get the best chatting experience.
About Chatwing.com
Chatwing.com is a company that has brought innovation to the modern chat widget. Operating for more than five years now, Chatwing and its team of developers have dozens of ideas ready to be introduced to the public. The Chatwing chat app is an easy-to-use online tool that can help web users interact with each other and can also generate continuous traffic. Chatwing will always be a freemium application for everyone.