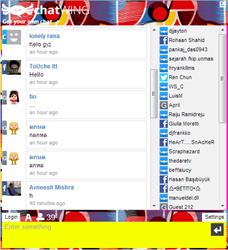 Phoenix, AZ (PRWEB) February 23, 2014
Chatwing chat app can be found and installed in GooglePlay. New users can immediately use it and start chatting in it by choosing one of the two General Chatboxes. Users have a variety of login methods they can use to join in. They can use the basic Chatwing and Guest options or they could use their social media accounts to join in. These include Facebook, Twitter, Google, Yahoo and Tumblr.
The users will also be able to create a chat box of their own but only after logging in via Chatwing. For first time users, they'll need to register first but only once, since the account can be used for the app and for the widget as well. Once the website chatbox has been successfully created, the user has the option to share to other networking sites and social applications. Chatters can visit this chatbox by using the Search tab and typing in its name.
The users also have the ability to delete messages, but only on the chatboxes that they themselves created. The don't have control over it in other chatboxes like the two under the General tab. These two chatrooms are moderated by Chatwing personnel.
Though it's only been released recently, the developers of Chatwing chat software are already making plans in further improving the app's chatting capabilities by putting in new functions, mainly in the Admin controls, and improving the already existing ones. And just like the existing Chatwing widget, the app is also free.
About Chatwing.com
Chatwing.com is a company that has brought innovation to the modern chat widget. Operating for more than five years now, Chatwing and its team of developers have dozens of ideas ready to be introduced to the public. The Chatwing chat app is an easy-to-use online tool that can help web users interact with each other and can also generate continuous traffic. Chatwing will always be a freemium application for everyone.