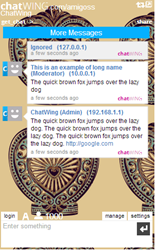 San Diego, CA (PRWEB) February 25, 2014
The social sharing functions are one of the newest additions to Chatwing's long list of features. It's activated by default even though it's a premium feature. The Twitter sharing button is one of the four buttons a user can use to share the chatroom, the other three being Facebook, Google and Tumblr. By default, the user will be able to Share the chat room software on Twitter.
Users can further improve the efficiency of the sharing button by reconfiguring it, though doing so would require them to purchase the premium feature. Once purchased, the user will be able to customize the sharing buttons to his preferences. The Twitter button for instance can be used to Follow, Hastag and Mention aside from Share. Each of these options can be modified further which means the user can also use it to promote his Twitter account and gain more followers.
This function can be a marketing asset for the user as it can potentially invite more people from that particular social network. The same could be said for the rest of the social sharing buttons, Facebook, Google and Tumblr. These buttons can help the user connect with other people on their respective networking sites.
Chatwing website chat app is continuously improving the chat software by enforcing its already existing functions. Now, they made a new approach by releasing the chat software's counterpart on Android. Now, its users can finally use this chatting tool on their mobile phones.
About Chatwing.com
Chatwing.com is a company that has brought innovation to the modern chat widget. Operating for more than five years now, Chatwing and its team of developers have dozens of ideas ready to be introduced to the public. The Chatwing chat app is an easy-to-use online tool that can help web users interact with each other and can also generate continuous traffic. Chatwing will always be a freemium application for everyone.