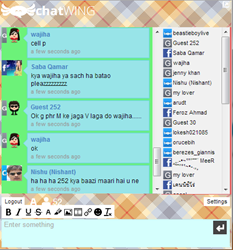 Boston, MA (PRWEB) February 27, 2014
Chatwing's login function now consist of nine methods – Facebook, Twitter, Google, Yahoo, Tumblr, Instagram, Vkontakte, Chatwing and Guest. With the exception of the last two, the rest will make use of the chatter's social media account for them to join in. Once logged in, they will use the profile pictures of their respective social media accounts as their avatar images in the chatroom.
Furthermore, anyone in the chat room software can view the each others' social media page by clicking on their avatars. Through this, people can easily make a social connection with everyone in the chatroom. If the chatroom is used to compliment a site, then its user would this as a very efficient way to know where his/her chatters are coming from. The user also has the right to allow or restrict the use of a certain login method to his/her chatters.
The effectiveness of the chat software login function is the reason why it was also included as one of the basic features of Chatwing Chat App for Android. In the app, the user can login using his Facebook, Twitter, Google, Yahoo, Tumblr, Chatwing or Guest. This is a very good approach especially since the app features a general lobby where everyone can chat inside.
As of this moment, Chatwing's developers are improving the tool's capabilities, both the app and the widget. And despite its rapid updates, it still remains a free chatting tool for everyone.
About Chatwing.com
Chatwing.com is a company that has brought innovation to the modern chat widget. Operating for more than five years now, Chatwing and its team of developers have dozens of ideas ready to be introduced to the public. The Chatwing chat app is an easy-to-use online tool that can help web users interact with each other and can also generate continuous traffic. Chatwing will always be a freemium application for everyone.