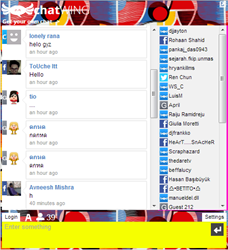 Portland, ME (PRWEB) February 28, 2014
Chatwing chat room app can be found on GooglePlay and can be installed for free. Once the user opens it, he/she will have to choose between multiple login options to join in. Most of these options will make use of the user's social media accounts like Facebook and Twitter with the exception of two, the Chatwing and Guest options.
After logging in, the user can immediately find two chatboxes that he/she can chat into. These chatrooms under the General Tab and act as lobby rooms where everyone can get in and chat. If the user wants to chat in a specific chatroom, then he/she will need to use the Search tab instead and look for it by typing its name.
The user can also create his/her own chatbox. He/she will need to login using a Chatwing chat software account for that however but once created, he'll have control over the chatroom. The user's newly created chatroom will instantly be saved under the Bookmark tab so that it can be easily accessed next time he/she uses it. This tab is also where the user can save the names of the chatboxes he/she wants to visit again.
About Chatwing.com
Chatwing.com is a company that has brought innovation to the modern chat widget. Operating for more than five years now, Chatwing and its team of developers have dozens of ideas ready to be introduced to the public. The Chatwing chat app is an easy-to-use online tool that can help web users interact with each other and can also generate continuous traffic. Chatwing will always be a freemium application for everyone.