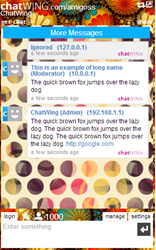 Cleveland, OH (PRWEB) February 24, 2014
Chatwing's social sharing function is composed of four buttons – a Facebook, Google, Twitter and Tumblr sharing button. Each of these buttons will be activated by default at first and will automatically share the chatroom when clicked. This setting cannot be changed because this is a premium feature – to change it, the user will need to purchase it first.
By purchasing the chat room app account, it will be possible to reconfigure the sharing options in favor of the user. The Twitter button, for example, is set to tweet only about Chatwing chat software. But by reconfiguring it, the button will be able to tweet something else or it can be used to follow the user's Twitter account. The same could be said for the rest of the buttons too.
The makers of Chatwing added this feature to make it easier for its users to share their chatroom's and gain more traffic. This is very beneficial for marketing purposes or if the user simply wants more people to chat with. To users who are using this chat room software as a complimentary tool on their sites, this feature will be a great help to them.
Chatwing is continuing to get better in terms of efficiency and flexibility as a chatting tool. As of now, it has already been released as an Android app. People can start chatting with it on their mobile phones too.
About Chatwing.com
Chatwing.com is a company that has brought innovation to the modern chat widget. Operating for more than five years now, Chatwing and its team of developers have dozens of ideas ready to be introduced to the public. The Chatwing chat app is an easy-to-use online tool that can help web users interact with each other and can also generate continuous traffic. Chatwing will always be a freemium application for everyone.