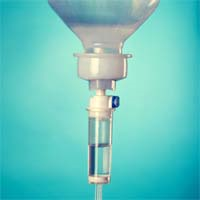 Careful assessment of neutropenia risk factors is needed across age groups.
Raleigh, NC (PRWEB) March 03, 2014
Researchers examining the rates of grade 3 and 4 neutropenia, a side effect of chemotherapy, say patients who are younger than 65 are less likely to receive prophylactic treatment for the problem.
Neutropenia is characterized by an abnormally low number of neutrophils, a type of circulating white blood cell that destroys bacteria in the blood. Chemotherapy can trigger neutropenia which can make patients more susceptible to infections. To combat the problem in chemotherapy patients, doctors may administer a glycoprotein called granulocyte colony-stimulating factor (G-CSF) that stimulates the bone marrow to produce neutrophils.
But a study conducted on 1,570 Non-Hodgkin's Lymphoma patients found that there are disparities in the way G-CSF is administered. Fifty-four percent of patients in the study were younger than 65, while 45.9% were 65 or older. All patients received a 4-drug Non-Hodgkin's Lymphoma chemotherapy regimen known by the acronym CHOP.
The dose levels were about the same in both groups of patients. Both groups also experienced about the same number of delays and dose reduction in their chemotherapy regimens because of side effects. But, although both groups of patients had about the same likelihood of developing serious neutropenia, patients in the younger group were less likely to be given G-CSF with their chemotherapy as a preventative measure.
Particularly in light of the potential seriousness of neutropenia, the Tennessee-based research team suggests that doctors carefully consider which of their Non-Hodgkin's Lymphoma patients should be receiving G-CSF, regardless of their age. "Careful assessment of neutropenia risk factors is needed across age groups to determine appropriate G-CSF use and support planned chemotherapy," they conclude.
The new report appears in a recent issue of Supportive Care in Cancer. (Schwartzberg, LS, et al, "Severe neutropenia and relative dose intensity among patients <65 and ≥65 years with Non-Hodgkin's Lymphoma receiving CHOP-based chemotherapy", February 19, 2014, Supportive Care in Cancer, Epub ahead of print, http://www.ncbi.nlm.nih.gov/pubmed/24535242)
The Non-Hodgkin's Lymphoma Center is part of the Cancer Monthly organization. The Non-Hodgkin's Lymphoma Center has been established by Cancer Monthly to provide more comprehensive information on the causes, diagnosis, and treatments for the many different subtypes of Non-Hodgkin's Lymphoma. For over ten years, Cancer Monthly has been the only centralized source of cancer treatment results. Patients can see the actual survival rate, quality-of-life indicators, and other key data for approximately 1,500 different cancer treatments. Cancer Monthly provides timely and ground-breaking news on the causes, diagnoses and treatments of the most common cancers including Bladder, Brain, Breast, Colon, Kidney (Renal), Liver, Lung (NSCLC), Ovarian, Prostate, and Rectal Cancers, Melanoma, Mesothelioma, and Non-Hodgkin's Lymphoma. Written for patients and their loved ones, Cancer Monthly helps families make more informed treatment decisions.