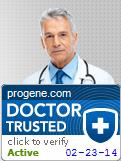 "For years, Progene® has been recommended by doctors," said Michael Lee of Progene. "Now consumers will see the Doctor Trusted® Seal and know our products are safe and reliable."
Cincinnati, Ohio (PRWEB) February 24, 2014
Doctor Trusted™ conferred the seal of approval on Progene®, the country's leading natural testosterone supplement. Progene® is the only brand in this category to qualify for and receive the distinguished certification.
Certification by Doctor Trusted™ requires a board licensed physician to review and approve a company's website and product. Progene®'s top scores won the seal and the highest grade of "A".
""I'm honored to display the Doctor Trusted™ Seal on our website," said Michael Lee of Progene®. "For years, Progene® has been recommended by doctors. Now consumers will see the Doctor Trusted® Seal and know our products are safe and reliable."
Recognizing the seal is an easy way for consumers to confirm the ethical integrity of a business. Originally created as a way to deter immoral business practices -- including false medical claims – the Doctor Trusted® seal continues to create a safe haven for consumers who want to purchase safe and effective products online.
"Our seal is unique because it provides commentary from a physician about the website or product, and also verifies that a business does not mislead or trick consumers," explains Bill Anderson of Doctor Trusted™. http://doctortrusted.org/
Consumers are provided several ways to verify a Doctor Trusted™ certificate. Similar to other security seals like Verisign.com, Thawte.com, RapidSSL, Truste.com, all Doctor Trusted™ certificates incorporate real-time security features making falsification difficult.
This high tech lock delivers consumer confidence about any website displaying Doctor Trusted™, ensuring that the website and products are not only in good standing with the medical community and but also upholding the ethical standards that permitted approval in the first place. The Doctor Trusted™ seal is endorsement by an impartial third-party; therefore, consumers can check the certificate's validity by clicking on the seal for the physician review. Authenticity can further be confirmed using a QR code scanner on any smartphone.
The Doctor Trusted™ seal takes the Better Business Bureau method of endorsement to a whole new level -- a level that includes medical approval by licensed physicians and particular scrutiny of Internet health and fitness products -- giving consumers tremendous confidence when they see the Doctor Trusted™ seal.
About Progene®:
Founded in 2003, Progene® continues to lead the market by addressing the decline of testosterone levels in men as they age. With over 20 million tablets sold, Progene®'s dual-action formula of over 15 rare herbal extracts and clinically proven testosterone precursors helps to provide men the ingredients they need to produce more testosterone.
Progene® continues to evolve and innovate. The addition of Progene's® At-Home Testosterone Test Kit gives men the opportunity to actually see for themselves what Progene® can do to help restore their Power, Performance & Passion®. The quick, easy and painless testosterone Test Kits are available exclusively at GNC & GNC.com.
Progene®'s mission over 10 years ago remains the same today: To feel younger and live well with natural solutions for natural problems.
Progene® is currently sold nationwide at GNC Stores, GNC.com, Costco.com, Stop & Shop, Bi-Lo Winn-Dixie, Vitamin Shoppe, Rite Aid, USADrug, Drugstore.com, Sears Marketplace, Harris Teeter Groceries, Brookshire's Food & Drug, Shopko, LuckyVitamin.com, and more than 150 other local and regional retailers.
For more information about Progene® products, go to http://www.Progene.com.
https://www.facebook.com/800PROGENE
PR Contact:
Judith Hokanson
Still have more questions? Call us at 1-866-PROGENE for customer service.