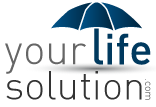 I've dealt with many people over the years who are practically uninsurable at the time they retire and are disappointed they cannot continue carrying life insurance during their final years
Chicago, IL (PRWEB) February 23, 2014
YourLifeSolution.com, a service which compares competing life insurance products, is issuing a warning to employees that are relying on their employer provided life insurance benefits. They are announcing that this is considered by many experts to be a poor strategy in the long term for protecting their assets, estates and families. The service states that in most cases, when life insurance benefits are held on a certificate-basis under the group master policy holder of the employer, benefits can end on any given year and generally will increase sharply in cost over time.
"Generally, and I'm referring to about 95% of all life insurance benefits provided by an employer, these products are not entirely portable, which means that if an employee leaves their employer, they won't be able to keep the coverage for long thereafter. If someone's health has deteriorated or they are significantly older than when they first became insured by their employer's plan, they may be in a situation where acquiring life insurance on the individual market is all but impossible. Take whatever your employer provides in this regard, but carrying life coverage on your terms is also imperative," said Eric Smith, the founder of YourLifeSolution.com.
"I've dealt with many people over the years who are practically uninsurable at the time they retire and are disappointed they cannot continue carrying life insurance during their final years," said Eric Smith.
YourLifeSolution.com encourages employees to research what permanent and portable coverage costs by visting YourLifeSolution.com to compare life insurance rates instantly. Users can also contact Eric Smith, the independent agent of YourLifeSolution.com, directly at 888.374.2764.