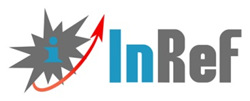 Technologically savvy, well trained, and robustly networked formations gain a decisive warfighting advantage.
Tampa, FL (PRWEB) February 24, 2014
Harry Tunnell, Principal at InRef, LLC, was a panel member on the Prospects for Counterinsurgency, Stability Operations, and Peacekeeping After Iraq and Afghanistan panel Wednesday, at the University of South Florida Modern Warfare's Complexity and the Human Dimension conference. A broad range of specialists on counterinsurgency, popularly known as COIN, participated in the 2-day conference.
Tunnell, a retired U.S. Army Colonel and veteran of the wars in Iraq and Afghanistan who now conducts research on military end-users and human-computer interaction, specializes in applied network-centric warfare theory. The theory shows skilled and experienced leaders how to attain a speed of analysis and command that non-networked or inadequately networked formations find impossible to match. Tunnell remarked that network-centric warfare theory describes how "technologically savvy, well trained, and robustly networked formations gain a decisive warfighting advantage." Because of rapid data transformations and an emphasis on soldiers as part of the information system rather than tactics—restrictive tactical guidance is central to the contemporary counterinsurgency model—network-centric warfare theory has the potential to provide an important benefit to U.S. forces regardless of the type of conflict.
The Citizenship Initiative at University of South Florida College of Arts and Sciences hosted the conference Feb. 18-19. The conference consisted of six panels with more than 20 "distinguished panelists and speakers, including experts and practitioners." Tunnell has experience as a practitioner and expert—he led a traditionally organized Airborne Infantry battalion during counterinsurgency operations in Iraq and in Afghanistan, he led a Stryker Brigade Combat Team organized, trained, and equipped to conduct network-centric operations according to the theory. He also conducts research related to human-computer interaction and the military domain. Tunnell is unique in that he may be the only commander in the world to have organized a brigade or other large cohesive formation from the ground up to implement the theory and then led such an organization in active ground combat. This rare combination of theory-derived practical experience and research make Tunnell an authority on applied network-centric warfare theory. These factors highlight the unique perspective that Tunnell brought to the conference as he addressed concerns about modern warfare.
InRef, LLC is a new media consultancy with a mission to provide superior service and help people interact with data, understand information, and build knowledge. The company vision is to help people design equipment, processes, and procedures that promote rewarding user experiences.