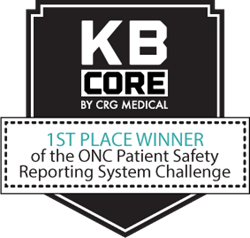 KB Core is a user friendly and very reliable web based platform that will support any organization's need for a patient safety reporting system designed to facilitate the elimination of patient harm.
Orlando, Florida (PRWEB) February 25, 2014
Salutopia. Inc. (http://www.salutopia.com), a software development company specializing in interoperable connectivity via electronic portals among patients, providers, payers, and others within the healthcare industry has just entered into an Inter-Company Alliance with CRG Medical, Inc. (http://www.kbco.re) a patient safety information technology development company.
The two companies are working together synergistically to increase market share by the inter-utilization of products, building relationships, and garnering sales contracts from each other's entities and contacts within the healthcare industry.
At the Salutopia booth # 4890 at the HIMSS Conference in Orlando, February 23 – 27, CRG Medical will demo the first mobile health App for interoperability between electronic health records (EHR) and patient safety evaluation systems (PSES) utilizing the AHRQ Common Formats. CRG Medical and the PSO Services Group, a federally listed patient safety organization, were recipients of The Office of the National Coordinator (ONC) for IT Challenge 2.0 "Purple Button" application award.
The KBCore "Purple Button" App is now available on iOS 7 and Android devices, phones and tablets and will be demonstrated at HIMSS. The Purple Button App comes loaded on MioCare and Motorola MC40 devices.
Jeff Renton, CEO of Salutopia said "we are pleased to announce this alliance with CRG Medical. Their patient safety and quality management system creates an enhanced value added proposition for Salutopia clients. Salutopia 's agnostic, aggregation, integration, refactoring and distribution of patient records offers a new level of user based services through the CRG Medical alliance focused on Patient Safety and Quality Management Control Solutions." Renton went on to say, "If you are at HIMSS please stop by our booth for a real time demonstration or call us for a private demonstration."
In 2014, to comply with the Patient Protection and Affordable Care Act (ACA), every US hospital with 50 beds or more, will require a Patient Safety Evaluation System (PSES) to participate in the Healthcare Insurance Exchange. Mobile technology, such as the Purple Button application from CRG Medical, will support seamless, active safety event reporting safely engaging clinicians at the point of care while protecting PSES data by harnessing the latest encryption systems. At the Salutopia booth, Douglas will review the benefits of Purple Button technology in engaging physicians in the process of providing accurate and timely information on patient safety events.
-END-
About KBCore by CRG Medical
The KBCore patient safety and quality management solutions make reductions in preventable medical errors possible. They save time and money by helping providers deliver the quality health care patients deserve. CRG Medical's innovative methodologies and tools enable effective data collection, classification, and analysis.
KBCore allows hospitals to identify prevalent threats, uncover the vulnerabilities in a patient-care system and helps organizations improve processes, design action plans and early warning systems to strengthen weak areas, and reduce the costs of harmful errors.
KBCore makes the hospital system stronger, more efficient, and cost effective http://www.kbco.re. For an onsite demo at HIMSS please call Douglas Dotan (713) 825.7900 or email douglas(at)kbco(dot)re to arrange for a personal meeting. About Salutopia, please visit http://www.salutopia.com or come booth #4890 at HIMSS.